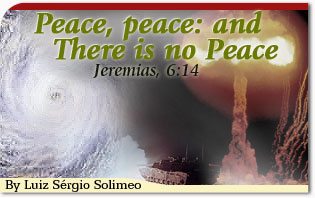 We live in apocalyptic times. Natural catastrophes come in succession, joining the sinister cortege of wars, terrorist attacks, and huge increases in crime. Indeed in some countries crime has become so organized as to threaten even national stability.1 The family is being eroded and the youth corrupted in a hedonistic pursuit that turns immediate pleasure into the reason for living. As social fabric is torn apart, there is increasingly discord in homes, society, and between nations. And, as in Biblical times, a voice cries out: "Peace, peace: and there is no peace."2
There is no peace among individuals, families, societies and nations. Even nature appears to have gone into a state of revolt. Where will the peace for which our hearts yearn so much, come from?
Peace, the Tranquility of Order
"Peace is the tranquility of order,"3 the appropriate disposition of things according to their end. Therefore, there can be no peace where there is no order, and peace will be attained only when order is restored.
Disorder as Sin
Order comes from God as its cause and tends to Him as its end; when man voluntarily disturbs order he not only commits an infraction in relation to that order but an offense against its author, that is, the Creator. This offense is called sin.4
Therefore, the present situation of disorder in which humanity finds itself is above all a fruit of sin, a state of continuous and deliberate offense against God.
On the other hand, when man violates the order established by God, he also acts against his own nature, which is connatural with order.5
Sin as a Reason for Pride
One thing is for a person to commit sin out of weakness which he laments and tries to avoid. Such an attitude leads to repentance and penance.6 Another matter altogether is for a sinner to be so attached to sin as to even brag about it and tout it as a reason for "pride" and "dignity."
This is the sin that most offends God, provokes his justice the most, and cries out to heaven for punishment.
Now then, many people in our times have not only given themselves over to sin in an impudent way, but gone even further in impiety. Challenging God's law, blaspheming and deriding all things holy has become a sort of morbid entertainment.
Public Challenge to God
By insulting God's supreme dignity, blasphemy is essentially graver than violations of the Ten Commandments. It can be perpetrated through words, deeds, actions or attitudes that deny or mock the Supreme Divine Majesty.7
This sin is all the more grave to the degree that it is public and notorious and more people participate in it.
The so-called 'marches' to exalt the practice of the sin of homosexuality are one of the noisiest and most widely attended forms of public blasphemy in our days. Since they are connected with campaigns in favor of homosexual 'marriage,' they take on clearly blasphemous overtones by mocking and defying divine law and natural law, thus challenging the Supreme Legislator, God.
After Rome, Jerusalem
This challenge to God's law was made clear in a recent statement by WorldPride, an organization that promotes and coordinates homosexual marches on an international level.
Explaining why it picked Jerusalem for its 2006 demonstrations (August 6-12) after having held them in Rome in the Holy Year of 2000, the organization says:
Jerusalem: the Holy City …. Jerusalem WorldPride 2006 will bring a new focus to an ancient city through a massive demonstration of LGBT dignity, pride, and boundary-crossing celebration. … The first WorldPride, Rome 2000, was just that: it brought to the heart of Europe, and indeed to the Pope's doorstep, the message that gays, lesbians, bisexuals, and transgendered people are – and always have been – a vital part of humanity. Now it is time to build upon our message and to bring it to a new and even more challenging frontier.8
Because of the present conflict involving Israel, the march, scheduled for August 10, has been suspended; but all other 'commemorations' will be held at the Holy City.9
An Invitation to Conversion
It is hopeless to try to attain peace without achieving a profound restoration of order, of which peace is a fruit. But that restoration is impossible if one does not consider the present disorder as a sin, an offense to God. In other words, one cannot attain true peace without having first a real conversion.
Peace is a gift of God. If we want peace for the world, the family, and society, the first thing to do is to cease offending God.
In Fatima, the Mother of God, having shown Hell to the three little shepherds, warned:
"You have seen hell where the souls of poor sinners go. To save them, God wishes to establish in the world devotion to my Immaculate Heart. If what I say to you is done, many souls will be saved and there will be peace. The war is going to end: but if people do not cease offending God, a worse one will break out during the pontificate of Pius XI. When you see a night illumined by an unknown light, know that this is the great sign given you by God that he is about to punish the world for its crimes, by means of war, famine, and persecutions of the Church and of the Holy Father."10
Happiness and Peace of Soul
Sincere conversion, abandoning sin and turning to God would not only bring us divine grace but also true happiness, which is peace of soul. For, "There is no peace to the wicked, saith the Lord."11 Only the Prince of Peace, Our Lord Jesus Christ, can give peace: "Peace I leave with you, my peace I give unto you: not as the world giveth, do I give unto you. Let not your heart be troubled, nor let it be afraid."12
Understanding the Problem First, in Order to Solve It
Someone could object that what was said above is entirely true but it is also very broad and vague and, therefore, it provides no immediate solution to the problems mentioned.
More than providing an immediate solution to individual, social and international conflicts, my intention was to emphasize a facet that is hardly ever mentioned when dealing with such conflicts. I sought to delve deeper into the causes of these conflicts by moving from the merely political or sociological plane to the area of philosophy and theology so as to attain a more complete vision of the matter.
If conversion, abandonment of sin and drawing closer to God does not automatically bring about a quick and effective solution to international and social problems, at least it favors that solution. Furthermore, it is already a beginning of the solution on the individual realm (peace of mind) and it is also a necessary condition for an eventual solution in the social and international arenas.
If understanding the problem is a previous requirement to finding a solution, what I have emphasized here is that to ignore the philosophical and theological roots of the problem only makes it more difficult to find a solution.
Asking for the Mediation of the Queen of Peace
Our Lord Jesus Christ is the Prince of Peace.13 And to both Catholic piety and the Magisterium of the Church, His Mother, Mary Most Holy, is the Queen of Peace.
In the footsteps of the Saints who sought her intercession with her Divine Son, let us ask her to obtain for us interior conversion, that peace of soul that Jesus Christ alone can give. And let us ask that peace, a gift of God, be granted to the world through a true restoration of order on an individual and social level.
Footnotes