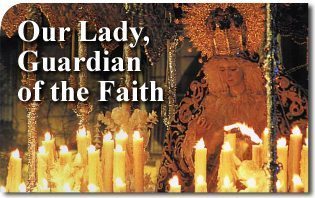 While the heavy stones of the tomb conceal the body of Our Savior from the gaze of everyone, the Faith vacillates in the few who remained faithful to Our Lord. But there is a light that does not burn out, nor does it flicker, and it alone burns fully in this universal darkness. It is Our Lady, in whose soul the Faith shines as intensely as ever. She believes. She believes entirely, without reservations or restrictions. Although all seems to have failed, she knows that nothing has failed. In peace, she awaits the Resurrection.
Our Lady represented and epitomized the Holy Church in these days of such extensive desertion.Our Lady, guardian of the Faith. This is the theme of the present meditation: guardian of the Faith and of the spirit of faith, that is, of the Catholic sense. In the eyes of many today, the possibilities of a full restoration of everything according to the law and doctrine of Our Lord Jesus Christ seems as irremediably entombed as Our Lord seemed to the apostles. Those who have devotion to Our Lady receive from her, however, the inestimable gift of Catholic sense. Because of this, they know that everything is possible and that the apparent inviability of the most daring and extraordinary apostolic dreams will not impede a true resurrection if God has pity on the world and if the world corresponds to the grace of God.
Our Lady teaches us perseverance in the Faith, in the Catholic sense, and in the virtue of the dauntless apostolate — "Fides intrepida" — even when everything seems lost. The Resurrection will soon come. Happy are those who knew how to persevere like she and with her. Theirs will be the joys, the glories in a certain measure, of the day of the Resurrection.
The preceding article by Prof. Plinio Corrêa de Oliveira was originally published in Legionário, No. 558, on April 18, 1943. The article was on the Via Crucis and this is the meditation for the Fourteenth Station. It has been translated and adapted for publication without his revision. –Ed.

Read or Download the Stations of the Cross in SPANISH Here