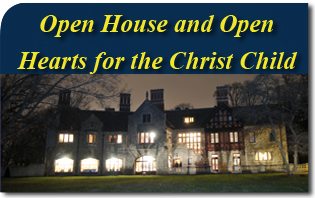 On the afternoon of December 16, 2012, supporters and friends of the American Society for the Defense of Tradition, Family and Property (TFP) arrived for the annual Christmas Celebration and Open House at the TFP headquarters in Spring Grove, Penn. Despite threats of rain, more than 300 from both near and far were able to join for the festivities in honor of the birth of Christ.The historic main house built in 1911 was the setting for most of the day's events.
As everyone began entering, carols played by the TFP's Holy Choirs of Angels band soon filled the air. Young and old marveled at the elaborate Nativity scene and the impressive gingerbread houses. Turkey, roast beef, and an enormous assortment of Christmas treats delighted the guests as they toured the impressive estate. It wasn't long before Christmas greetings and lively conversations were heard beside the warmth of the many fireplaces.In the nearby Pierre Toussaint center, guests were treated to showings of a skit by students of the TFP-run St. Louis de Montfort Academy in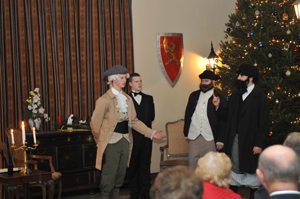 Herndon, Penn. The student acted and directed production titled "Who Will Trim the Tree? And Tell Me, Who Are the Suspects?" was set during the French Revolution, and focused on a count who attempts to celebrate Christmas while combating the rising tide of secularism. The play's two showings delighted the audiences and garnered enthusiastic applause.
Midway through the open house, a surprise visit from Saint Nicholas greeted the children. The dramatic telling of the story of the real Saint Nicholas left a deep impression on children and adults alike. Saint Nicholas left the excited youth with little bags of chocolate 'gold' to take home as a memento.
The simple joy of being together to celebrate Christmas was the highlight of the entire day, and all felt blessed to come together in honor of the King of Kings. As the evening came to a close, longtime friend of the TFP Mr. Roark Mitzell poignantly summed up the sentiments of all who attended: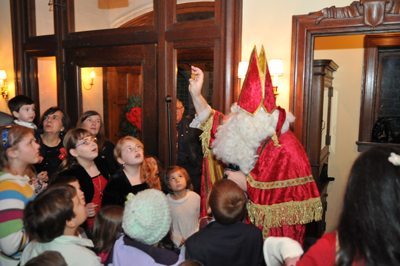 "If I can go into a marvelous ambiance, be among well-dressed people with good manners, have intelligent conversation, listen to live (non-synthesized) music, eat some smoked salmon, etc., I will be a happy man."Even if it happens only once or twice a year, the potency of the conviviality, good cheer, and Faith enriches my life for the year. It funds, sustains, and empowers me.
"As the fencing instructor here, I can tell you that this is a microcosmic, organic society and hierarchy that works, and to be part of it is to feel fulfilled. Downton Abbey hints at it.  But this is real.  This works.  It is marvelous."