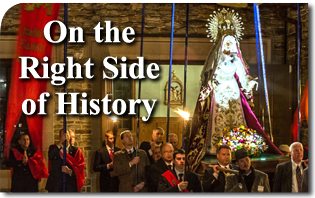 Members, supporters and friends of The American Society for the Defense of Tradition, Family and Property (TFP) gathered for its 2015 National Conference on October 24 and 25 in Spring Grove, Penn. This year's theme, "On the Right Side of History: Our Role Inside the Storm," was fittingly designed to address key topics of concern to all those in attendance.
Many who traveled from all over the country, not only looked forward to being with old friends and meet new ones, but also gain much needed insights, valuable information and inspiration to continue their part in the struggle for the traditional values of Christian civilization which they all hold so dear.
Blessed with pleasant fall weather, the talks were interspersed with friendly discussions, delightful cuisine and most importantly, the Sacraments of Confession and Holy Eucharist. The first day of talks was capped by a traditional candle-lit Rosary Procession graced by a life-sized statue of Our Lady of Hope, Macarena. The second day ended with the customary High Mass at the historic Basilica of the Sacred Heart of Jesus in nearby Hanover, Penn., followed by a closing address by HIRH Prince Bertrand of Orleans-Braganza during the medieval banquet.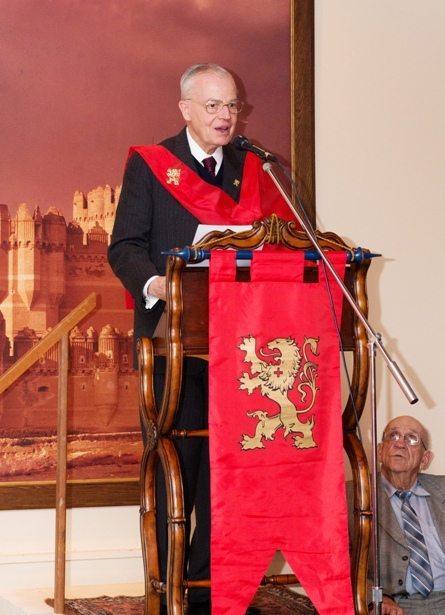 The speakers this year were all members of The American TFP and addressed the following topics: "The Battle for Marriage Continues" by Ben Broussard; "The Benedict Option and a Return to Order" by TFP vice president John Horvat II; "What Have We Done? Overview of Recent TFP Activities" by Michael Gorre; "Dealing with the Synod and the Crisis in the Church" by Luiz Solimeo; "Semper Fidelis: A Means to Weather Future Storms" by Norman Fulkerson; "The Libertarian Temptation to Go at It Alone" by Michael Whitcraft; "Countering the Environmental Offensive" by James Bascom; "Secrets of Grace That Spell Big Trouble for the Revolution" by Michael Chad Shibler and "Transgenderism and Other Deviations: The Cutting Edge of the Revolution" by Rex Teodosio.
Much as Saint Augustine saw history as the work of man united with Divine Providence as in his City of God, the overarching theme of this year's talks reminded everyone that indeed, the right side of history is with Our Lady, for she declared the certainty of her victory when she said at Fatima, "Finally, my Immaculate Heart will triumph!"