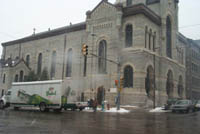 Nestled in the heart of downtown Philadelphia, in a shrine unknown to most Americans, are the mortal remains of the great saintly bishop, John Neumann. From the very first breathtaking glimpse, the traditional baroque architecture of the church of St. Peter stands out defying the surrounding harsh modern streets. For the soul who feels oppressed by the coldness of those streets, this glimpse is already a consolation, calling to mind that warmer era when Saint John Neumann lived and preached in that very place. History comes alive and this pilgrimage becomes an educational and truly spiritual experience, great for anyone of any age.
Who was the man behind this history? Born in 1811 in Bohemia, the young saint developed a burning desire to become a priest and work in the United States. In June of 1836, both desires were fulfilled when he arrived in New York and was ordained at St. Patrick's Cathedral.Aided by his mastery of nine languages, Saint John Neumann tirelessly served many ethnic communities in New York, Pennsylvania, and Maryland.
His impressive accomplishments included the establishing of the first diocesan schedule for the Forty Hours devotion in the United States, and organizing the first parochial school system. He served as the first non-Irish bishop of Philadelphia, and was the first Redemptorist to make his profession in America. On January 5, 1860, Saint John Neumann died. With his canonization in 1977, he became one of the few American citizens to achieve the honor of sainthood.
After his death he was buried at his own request in the crypt of St. Peter's Church in Philadelphia. In the basement of this beautiful baroque church, where he preached, and administered the sacraments, a modern chapel was built. The altar of this chapel is a glass reliquary which contains his remains inside a wax effigy. A kneeler before the remains provides pilgrims with a place to pray.
The Blessed Sacrament is kept to a side altar on the left. A small museum displays his instruments of penance, books, last will and testament, coffin and other personal possessions. Books about the saint including his autobiography, and other religious items are offered for sale at the gift shop. First-class relics can also be obtained.
Although the modern style of the shrine may not appeal to those with traditional taste, the spiritual value of the shrine undeniably overshadows a lot. This value, plus the rarity of such pilgrimage sites in America, makes St. John Neumann Shrine an excellent place to visit and pay homage to one of the great figures of our American Catholic history.
For more information about the St. John Neumann Shrine, visit their website at: http://www.stjohnneumann.org