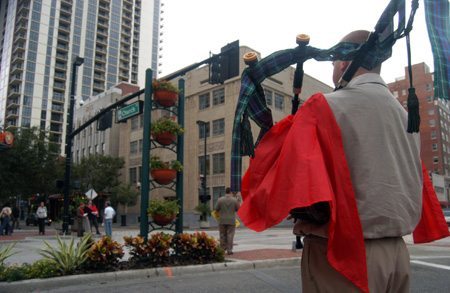 "I work at the bank on the sixth floor and my co-workers told me I should come down to see you, so I came down." Visibly pleased with the TFP campaign for traditional marriage, the black lady continued: "This financial crisis we are in is because of the justice of God. Three states have allowed homosexual 'marriage' and if we don't respect God's law, we can expect more chastisements. I'm going to get my church involved in this issue. The Church is sleeping," she said.
Another person paused on the sidewalk to take in the sight of the campaign: "Wow! You are really brave," he said. "Why do you say that?" asked a TFP volunteer. "Because this is the same street where the homosexuals recently had their 'gay pride parade,' thanks to the mayor and Disney."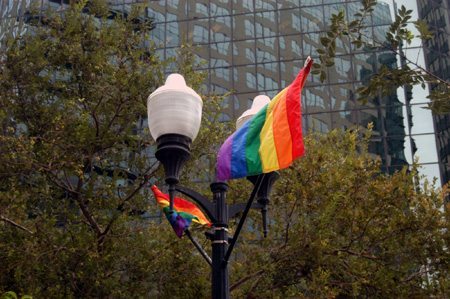 And in fact, each city lamppost was festooned with two rainbow flags, the symbol of the homosexual movement. Literally everywhere you went in the downtown area, you'd bump into these flags. Now, a favorite line frequently used by pro-homosexual advocates who attempt to silence us is: "Separation of Church and State! Separation of Church and State! Stop imposing your views on everyone else."
Seeing those rainbow flags hanging on State property gave us a very easy and palpable way to rebut that argument: "If you think the State should remain neutral or silent in matters of public morality, why are all these pro-homosexual flags up on these lampposts? I'm sure city workers spent long hours putting them up at the expense of honest American tax dollars. Besides, the State is in the business of looking out for the common good and traditional marriage is the institution which allows society to flourish and prosper. Therefore, the state should protect marriage and reject same-sex counterfeits."
It drizzled during the campaign, but not enough to stop our activity, and the bagpipes echoes off the tall buildings.
A man stood behind TFP volunteer Mr. Thomas Schneider and motioned to his friends that he wanted to push him over into the street and see him get run over by a car. They all laughed at the joke.
The spirits among TFP volunteers are high. Please keep praying for this effort and may God and the Blessed Mother grant us victory. To send us a message, write to [email protected]
Saint Joseph, pray for us!
Our readers write:
Keep up the good work, students! God is blessing you and will continue to bless you.
— Elizabeth C.
My family and I support you in all your efforts, we are grateful that you are out there doing what must be very difficult at times but needs to be done to restore the morals of this nation. Keep up the good fight.
— Ernie W., Bangor, Maine
God's blessings be upon you as you travel around reaching the hearts and souls of hundreds of people. Your great sacrifice is to be admired, for spreading the message of Jesus Christ in a confused and sinful world. Without the traditional marriage, families will start to disappear and children will become a thing of the past. Let us all pray together to bring about a change for the good of all those who have been hurt by homosexuality and whose souls are threatened by the loss of sin. May your journey bring success and everlasting peace to our hurting world.
— Mary Ann
All you blessed people who are working for this cause, I salute you. I would not have the courage. I am sending all I can afford right now. I wish it could be more. I am praying for you all.
— LaVonne Birge
Your friendship in the Faith has been remarkable. It was a splendid joy meeting you and the other missionary brothers. Your work in honor of Our Blessed Mother is a strength and inspiration for all Catholics throughout America. Thank you for your love and unending sacrifice.
— Glenn S.
Your doing the right thing, my heart is with you.
— Bill W.
Nice job, everyone! This is an awesome idea! Keep it up! I was also just wondering if you could maybe send me one of those fliers that you hand out or just some information with what I can say to people when they start talking to me about homosexual marriages (I don't even like calling it a marriage because it isn't). Anyway, keep it up! "Persevere in running the race that lies before you!" – Hebrews 12:1. God bless you and all you do! 🙂
— Theresa
How to Support the Caravan
If you wish to support this vital endeavor with a gift, please click below.

If you would like to make your contribution by mail, please send a check payable to TFP Student Action and mail it to:
TFP Student Action,
1358 Jefferson Rd.
Spring Grove, PA 17362.
We've already traveled over 8,142 miles for traditional marriage and it takes some $107.00 to fill our van's gas tank. Thank you for considering a gift to this cause. God bless you!