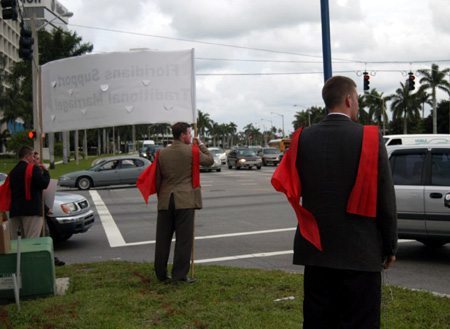 Wherever we go as a group, people ask questions. They want to know who we are and what we are doing. I suppose ten young men dressed in coat and tie attract a fair amount of attention. But we don't mind it because it gives us the chance to meet more people and discuss the importance of protecting traditional marriage and moral values.
Today, as we waited to be seated for breakfast, people at nearby tables were curious to know what group we belonged to so we gave them copies of the TFP flier, 10 Reasons Why Homosexual "Marriage" is Harmful and Must be Opposed. Immediately, a heavy set woman at one of the tables started: "Gays should be allowed to do whatever they want. It's none of your business to tell them they can't get married," she said, lacing her sentences with foul language.
One of my TFP colleagues politely countered: "Homosexual vice can never be considered the equal to traditional marriage." Everyone within ear shot tuned in to listen, somewhat disturbed by the woman's vulgar mouth. "I don't care what you call it," she insisted. Marriage is just a word. It's just a freaking word. Call it a window if you want. I don't care."
My TFP colleague continued: "The fact is that words do mean something. That's why we don't call marriages windows and windows marriages. For the sake of discussion, what does the word murder denote, a good action or a bad action?" "It depends," she replied. "I'm pro-choice! As long as it doesn't hurt my life, I don't care." It is interesting the note how the sin of abortion and homosexuality are often linked. Addressing the "I don't care" attitude, my colleague pointed out how Communism ravaged many nations, in part, because people only reacted when it touched them personally. Several Cuban-Americans following the discussion nodded in agreement. The wellbeing of the family must be defended if civilization is to survive.
A group of ladies at another table had had enough. "We support you and what you are doing for traditional marriage," they said, while holding the TFP flier in their hands. "Thank you! Good job." People at other tables also gave us a thumbs up of approval and encouragement. Finding herself alone, the pro-homosexual woman quickly left.
After breakfast, we went to the Bay of Pigs monument to pray and take a photo with our banners.
West Palm Beach
In the afternoon, we campaigned in West Palm Beach at a busy intersection. The weather was extremely windy and cloudy; however, the reception was excellent.
We just pulled into our KOA campsite in Loxahatchee, Florida, for the night where we hope to get some rest and prepare for another day, but quality rest may be difficult. The mosquitoes are plentiful and aggressive, much larger than average and already biting. They don't seem to be bothered too much by the repellent. To keep traveling costs down, we stay at campgrounds and often cook our own food. We laugh sometimes when camping conditions are rough because a pro-homosexual blog in California suggested that the TFP caravan was spending large sums of money at expensive hotels and resorts. That is certainly not the case.
Thank you for your continued prayers and support and may God grant us victory.
Saint Joseph, pray for us!
Our readers write:
Dear TFP Volunteers,
I just want to thank you for standing up and making our voice heard. It's so sad that a small percentage of the American people are complaining about what our nation is built on and are able to destroy it. What I don't understand is why they are attacking our right to free speech when they have done the same thing to get where they are at. Only the voices that speak up will be listened too… I will pray for you and what you are fighting for. Stay safe, and God bless you and what you stand for. Thanks again for everything,
— Elisabeth M., Shakopee, MN