At last, after a tiring 17-hour drive down highway 95, the ten of us arrived safely in Miami where Cuban-American TFP supporters gave us a most warm reception. The long journey South gave us time to listen to a book on tape titled Against All Hope by Armando Valladares, former U.S. ambassador to the UN Commission on Human Rights appointed by President Ronald Reagan. His first-hand account describes the 22-years of bone-chilling, ruthless and savage torture he endured in Communist Cuban prisons.
In the midst of indescribable pain and torture, Ambassador Valladares explains how his Catholic faith sustained him and gave him the ability to face insurmountable obstacles with tremendous courage. Some of his acquaintances were executed for simply objecting to Marxist philosophy as they shouted: "Viva Cristo Rey! (Long live Christ the King!) Down with Communism!"
The story is a reminder: Communism is very much alive in Cuba. In fact, only 90 miles off America's sunny, golf-course studded coast, atheist Communism holds 11 million people hostage in a state of abject misery.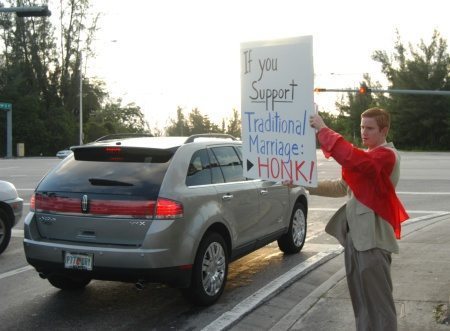 After attending the Holy Sacrifice of the Mass at Saint Robert Bellarmine Catholic Church, a generous TFP supporter invited us to a special brunch at Versailles Restaurant. After some authentic Cuban cuisine and a cup of pitch black coffee, we were ready for a good campaign. We made our way to a busy intersection and were pleasantly surprised: Floridians overwhelmingly support traditional marriage, especially Catholic Cuban-Americans.
"Tell me, how can I get one of your lions?" asked a man who wanted to have a TFP lion. He left with a stack of Spanish and English fliers: "I am going to the Mall and I will give these out there," he said enthusiastically.
Tomorrow will be a full day. Please keep us in your prayers and may God grand us victory.
Saint Joseph, pray for us!
If you want to help protect the institution of marriage, the family and future of America, please consider filling our van's gas tank with fuel and keep us on the road for traditional marriage. So far we've traveled 8,142 miles for God's marriage.
Sponsor 1 tank of gas, 330 miles, for $107.00
Sponsor 2 tanks of gas, 660 miles, for 214.00
Sponsor 3 tanks of gas, 990 miles, for $321.00
Or even 5 tanks of gas, 1650 miles, for $535.00
If you would like to make your contribution by mail, please send a check payable to TFP Student Action and mail it to:
TFP Student Action,
1358 Jefferson Rd.
Spring Grove, PA 17362.