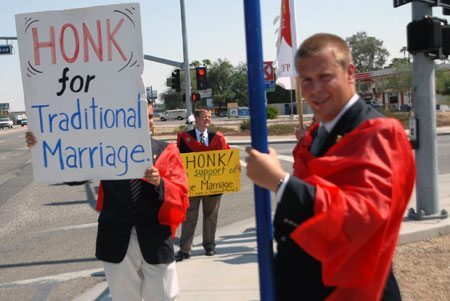 Yesterday, we said farewell to California. After thirty days campaigning for traditional marriage in the Golden State, my colleagues are a number of shades darker, burned by constant exposure to the sun, yet ever willing to continue the crusade for God's marriage. Our next stop: Arizona.
Temperatures reached triple digits today as we campaigned for traditional marriage in Yuma, before reaching Phoenix. Our van overheated and our laptop computer stopped functioning normally due to the extreme heat. Each TFP volunteer drank copious amounts of water just to stay hydrated.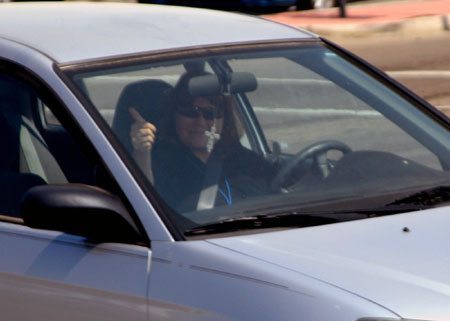 As soon as we set up our banners and "Honk For Traditional Marriage, 1 Man + 1 Woman" posters, the response was immediate, and mostly favorable.
It was equally positive at a busy intersection in Phoenix. However, those who disagreed with our campaign acted violently, and within a short period of time three separate pro-homosexual advocates hurled bottled drinks at our volunteers from the comfort of their cars.
These cowardly acts did not stop us from completing our task.
Again, please continue praying for us and thank you for your support and generosity.
Saint Joseph, pray for us!
How to Support the Caravan
If you wish to support this vital endeavor with a gift, please click below.

If you would like to make your contribution by mail, please send a check payable to TFP Student Action and mail it to:
TFP Student Action,
1358 Jefferson Rd.
Spring Grove, PA 17362.
We've already traveled over 7,251 miles for traditional marriage and it takes some $107.00 to fill our van's gas tank. Thank you for considering a gift to this cause. God bless you!