Prayer and peaceful protest have once again proven to be successful. According to an article in The Observer dated February 16, by pro-homosexual activist Tom O'Neil, "not only will there be no gay film festival this year [at the University of Notre Dame], it's probably kaput for good."
Starting in 2004, homosexual activists had been allowed to hold a yearly "Queer Film Festival" at Notre Dame. Bluntly contravening Catholic morality, one such event even featured Terrence McNally, author of the blasphemous production "Corpus Christi" which portrays Our Lord Jesus Christ and the Apostles as homosexuals.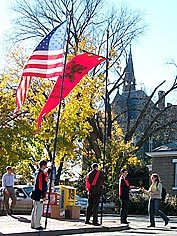 Reacting to the scandal, TFP Student Action lead multiple petitions of protest addressed to Fr. John I. Jenkins, CSC, politely requesting that he cancel events that promote homosexual vice. As a result, thousands of letters and emails poured into the administrative offices of Notre Dame, calling for a restoration of the institution's Catholic identity. Concerned Catholics also pledged to pray for students, that they receive the courage to resist the dictatorship of relativism, and reject the promotion of homosexual films and immoral plays.
After TFP launched its campaign, "Queer Film Festival" organizers were quietly instructed, over a period of time, to delete the words "festival," "gay," "lesbian," and "queer" from their event titles. "That nearly killed it, of course," wrote pro-homosexual advocate O'Neil in The Observer. Last year's pro-homosexual film event at Notre Dame was such a failure that "no plans were made to stage it again this year," he stated.
There's no doubt: prayerful protests are effective and make a real impact. For that reason, TFP Student Action members are encouraged to continue defending moral values with ever more vigor.
To thank or encourage Fr. Jenkins to oppose the homosexual movement at Notre Dame, write to:
Rev. Fr. John I. Jenkins, CSC, President
University of Notre Dame
317 Main Building
Notre Dame, IN 46556
Phone: 574-631-5000
Email: [email protected]