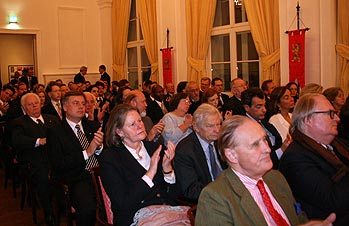 At the reception hall of the majestic Coburg Palace, right in the heart of Vienna, a distinguished audience attended the October 30 launching of the first Austrian edition of the book, Nobility and Analogous Traditional Elites in the Allocutions of Pius XII to the Roman Patriciate and Nobility by Prof. Plinio Corrêa de Oliveira. The Austrian Society for the Defense of Tradition, Family and Property was not only launching a book but also paying a just homage to its author on the centennial of his birth.
Already published in English, French, Italian, Portuguese and Spanish, the book is now available in German.
The speakers at the session were Prince Luiz of Orleans-Braganza from Brazil, Duke Paul of Oldenburg from Germany and Prof. Roberto de Mattei of Italy. A crowd of over 120 people filled the hall while Count Peter zu Stolberg-Stolberg presided over the event with great skill and charm. Numerous members of the Austrian and German nobility were present at the session. All the speakers emphasized the great insights of the book's author and the importance of the topic at a time when the world grapples with destabilizing moral, political and financial crises.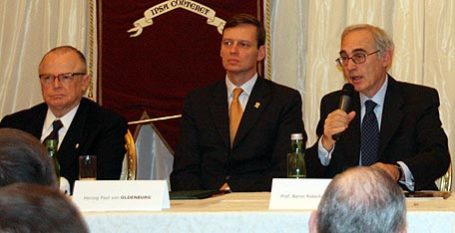 After the book's presentation, a banquet was served at the grand hall of the Radisson Hotel, near the Coburg Palace. At the end of the dinner, TFP member Mathias von Gersdorff, who had met Prof. Plinio Corrêa de Oliveira in São Paulo, Brazil and helped translate the book into German, opportunely recalled the author's wish to have it published in German. The welcoming ambiance stirred up lively conversations that lasted well into the night. The English language edition of the book is available from the American TFP. Click here for details.