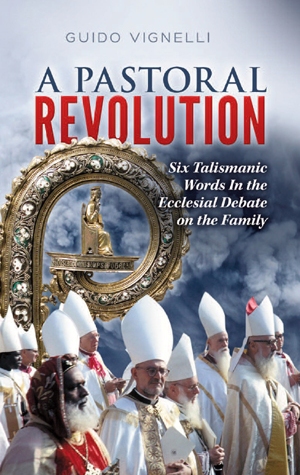 YORK, Penn. (October 3, 2018) An important new book has just been released to help Catholics make sense of the confusing language of change in the Church. A Pastoral Revolution: Six Talismanic Words In the Ecclesial Debate on the Family is authored by Italian scholar Guido Vignelli. It examines words that are often misused in debates over the family to change the orthodox Catholic narrative and promote a liberal agenda.
The just-translated work is especially relevant in the light of interpretations of the Apostolic Exhortation Amoris Laetitia, which has confused countless Catholics on Church teachings about divorced and civilly "remarried" persons receiving Holy Communion.
Mr. Vignelli is a scholar of ethics, political philosophy and communication science. For years, he has been writing articles, books and studies defending the Church and Christian civilization.
His book spotlights six words whose meanings have been deliberately twisted so that they sound familiar, but carry very different meanings. Each of these terms has been recast by modernists within the Church to make their radical ideas sound comfortingly familiar. Those words are pastoral, mercy, listening, discernment, accompaniment, and integration.
The English edition of the book was translated by José A. Schelini and published by the American Society for the Defense of Tradition, Family and Property (TFP).
"We are proud to present the English translation of this book to the American public," says John Horvat II, American TFP vice president and author of the book Return to Order. "Radicals use comforting words in ways that confuse people. This book helps dispel the confusion."
Those who want to understand better the crisis inside the Church will be interested in A Pastoral Revolution. The book can be read online or downloaded for free at TFP.org/PastoralRevolution. The print edition can be purchased here. For more information about The Pastoral Revolution (Spring Grove, Penn.: The American Society for the Defense of Tradition, Family and Property, 2018; paperback ISBN: 978-1-877905-54-4; e-book ISBN: 978-1-877905-15-5; 106 pp.), please e-mail [email protected].