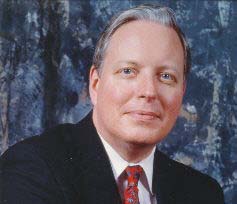 It is with great sadness that the American Society for the Defense of Tradition, Family and Property (TFP) received the news of the death of Paul Weyrich, outstanding leader and mentor of the conservative movement. His efforts were of paramount importance in uniting conservatives for many decades. He moved moral issues into the forefront of the Cultural War.
Thus, Mr. Weyrich was an indomitable Cultural warrior who continued his work until the very end. His later years were plagued by diabetes, leg amputations and other painful problems. Despite such obstacles, he relentlessly "fought the good fight" and never gave up.
Mr. Weyrich was also a good friend of the American TFP. Since the early eighties, he regularly met with Mr. Mario Navarro da Costa of the TFP Washington Bureau, with whom he traveled on several occasions to Latin America and Europe, visiting the local TFPs and being introduced to their networks of friends. He also visited the Brazilian TFP in 1988, and met with its founder Prof. Plinio Corrêa de Oliveira. Over the years, Mr. Weyrich had proven to be an invaluable friend.
He should also be remembered as a Catholic. His devotion to Holy Mother Church led him to become a deacon in the Melkite-rite of the Catholic Church. As a Catholic activist, he helped father the religious conservative movement in American politics.
Eternal rest grant unto him, O Lord, and let perpetual light shine upon him.