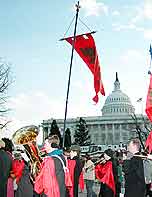 The American Society for the Defense of Tradition, Family and Property (TFP) joined well over 100,000 concerned Americans from across the country for the annual March for Life in Washington D.C. This year's January 22 march marked 31 years since the infamous Roe v. Wade decision granting women the "right" to murder their preborn children.
Dozens of TFP activists handed out thousands of flyers, carrying an American flag and eight 18-foot standards, TFP symbols, which have been a fixture at each march since its inception in 1973. This year's flyer, titled "Making Abortion Unthinkable," (click here to read "Making Abortion Unthinkable") showed that being anti-abortion means being pro-family and pro-marriage. It decried the homosexual agenda which strives to undermine the family by redefining marriage to include partnerships other than those between one man and one woman.
The flyer read, "By its very definition, the anti-abortion struggle has always been pro-marriage and pro-family. This is because abortion is unthinkable within the context of a truly Christian family."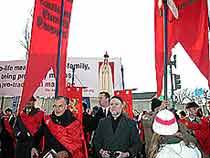 Fr. Kevin Beaton of Newcastle, Penn. traveled to the American TFP headquarters where he celebrated Holy Mass in the traditional Maronite Rite before marching with the TFP in Washington.
His Imperial and Royal Highness, Prince Bertrand of Orleans-Braganza also marched with this years TFP contingent and distributed flyers. "I enjoy any opportunity to defend what is right," he said. "Attending this year's March for Life was thrilling."
President George W. Bush called from Roswell, N. Mex. to encourage the marchers. In his address he called on pro-lifers to spread their conviction. "We must continue with civility and respect to remind our fellow citizens that all life is sacred and worthy of protection."
In addition to President Bush, several congressmen addressed the crowd, including: Sen. Sam Brownback (R.-Kans.), and Reps. Christopher H. Smith (R.-N.J.), W. Todd Akin (R-Mo.), Todd Tiahart (R.-Kans.), Steve Chabot (R.-N.Y.), Jim Ryun (R.-Kans.), Melissa Hart (R.-Penn.), Mike Pence (R.-Ind.), Ron Lewis (R.-N.Y.), Roscoe Bartlett (R.-Md.), Rick Renzi (R.-Ariz.), Steve King (R.-Iowa), Thaddeus G. McCotter (R.-Mich.), Michael C. Burgess (R.-Tex.) and Patrick J. Toomey (R.-Penn.).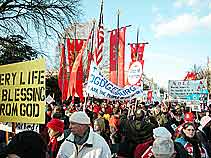 TFP friends from Europe also joined the March. France's Droit de Naître and a contingent from Italy held banners in support of the preborn. "Participating in this year's March was quite an experience," said Italian TFP representative Roberto Bertonha. "If Roe v. Wade is not overturned this year, I hope to be back next year."
Adding more life to the event, the TFP marching band played the Marine's Hymn and other patriotic songs on trumpets, bagpipes, fifes and drums.
Gazing at the shivering ocean of marchers it was apparent that attendees were unmoved in their resolve to continue struggling against abortion. They were gathered in defense of an ideal and firmly convinced to follow their consciences.
Their attitude was well expressed by the finishing words of this year's TFP message, "As we join in this 31st March for Life, we pray that God, through the special intercession of Mary Most Holy, the Blessed Mother, will grant the pro-life movement total victory in its fight for the unborn: making abortion not only illegal, but unthinkable."