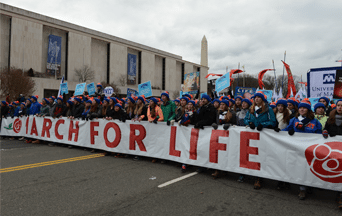 On January 27, 2017, hundreds of thousands marched in Washington, D.C. for the 44th annual March for Life to protest and make reparation for the sin of abortion. While the cynics say that Roe v. Wade is settled law and unchangeable, the multitudes that marched from the Washington Monument, up to Capitol Hill and to the steps of the Supreme Court were not deterred.
Members of the American Society for the Defense of Tradition, Family and Property (TFP) along with its Holy Choirs of Angels Marching Band playing bagpipes, brass, fifes, and drums, joined the marchers. The music was upbeat and firm, encouraging those marching to strengthen their resolve to defeat abortion.
Sister organizations from other countries joined of the American TFP including: Aktion SOS Leben (Germany), Irish Society for Christian Civilisation (Ireland), Droit de Naître (France), Tradición y Acción (Colombia), Foundation for the Protection of Human Life from Conception (Netherlands), and Krikščionškosios Kultūros Gynimo Asociacja (Lithuania)
To Make America Great, Turn Back to God
TFP volunteers distributed copies of their pro-life statement, "To Make America Great, Turn Back to God," to the multitudes passing by. While acknowledging the massive conservative win last November, the statement listed those values and principles that must now be defended and promoted to take advantage of the victories.
The statement continued listing the demands and hopes that the TFP wishes to express for the conversion of America.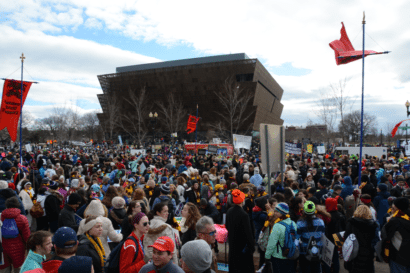 "Now is the time to bleach out the stain on America's honor, its great sin against God: Roe v. Wade," the statement concluded.
Vice President Mike Pence Speaks
Vice President Mike Pence spoke at the march, greatly increasing the enthusiasm of the pro-lifers. For them, it was a sign that their voice has a presence in the current administration.
"I'm deeply humbled to be the first vice president of the United States to ever have the privilege to attend this historic gathering," Vice President Pence stated.
"Be assured, be assured," he concluded, "we will not grow weary, we will not rest until we restore a culture of life in America for ourselves and our posterity. Thank you and God bless you, and God bless the United States of America."
2017: Making Abortion Unthinkable
Entering 2017, the pro-life movement needs to redouble its efforts in the fight for life and the family. It must incessantly hold President Donald Trump's administration to its pro-life promises. There can be no compromise, no slackening, and no apathy.
During this centennial year of the apparitions of Our Lady of Fatima, let us ask the Mother of God for her intercession in the fight against abortion.