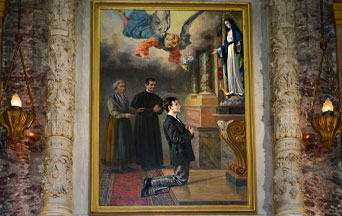 What is going on with my generation? As a 21-year-old Catholic man, I see so many in a degenerate state. We act without thinking. My generation follows mantras such as "Just do it" and "You only live once." It is self-centered and childish. We are broken and have lost our sense of seriousness.
The Life of a Saint Written by a Saint
With this in mind, I read The Life of Saint Dominic Savio by Saint John Bosco. It is the life of a saint written by a saint. Saint John Bosco wrote this short book for young men in late nineteenth-century industrialized Milan, Italy. Although written over one hundred years ago for a very different generation, the episodes of young Dominic's life shine as a model for all generations, including mine.
Saint John Bosco writes the story of his pupil. Saint Dominic Savio was a young Italian boy who was a great example of youthful purity and seriousness. From his infancy, he aspired to be a saint. His life was not full of the great heroic deeds of generals or statesmen but of facing everyday life as a teenager with virtue and seriousness.
Youthful Seriousness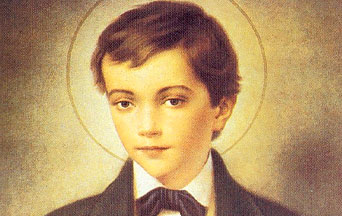 Amid the frenetic intemperance of the Industrial Revolution, Saint Dominic kept his eyes fixed on God and his eternal goal. Saint John Bosco does not write about a soft cherub with whitewashed piety, but a manly teenager imbued with the virtues to confront the weaknesses of his times.
There are many examples of Saint Dominic Savio confronting the inordinate love of pleasure. "You will laugh your way to Hell," he told some of his schoolmates as he ripped up a nonsensical comic they were ogling.
Saint Dominic opposed self-centeredness. He would imitate the life of suffering and the Cross of Our Lord Jesus Christ. He did penances constantly and denied himself even small pleasures.
At his first Communion, Saint Dominic made some promises to God and the Blessed Virgin Mary. One of these was "death before sin." Dominic would rather die than commit one offense against God. This was his motto for his whole life.
An Example to Fix Our Brokenness
Reading this book, I marveled at this young man's virtues, which were simple yet heroic. It would be easy to imitate if I curb my frenetic intemperance.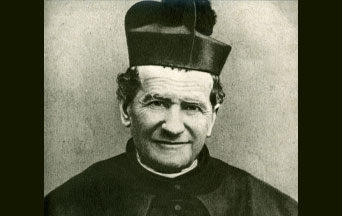 This is not a book to read and toss aside, but one to admire and imitate. The author writes in the preface,
"In reading something you admire, don't be content to say, 'How nice! I like it!' Say 'I want to strive for those achievements which I most admire in others!"
Saint John Bosco gives a perspective of how a young man should hold himself by using Saint Dominic Savio's life. The book is easy to follow and flows well. It was so compelling that once I picked it up, I could not put it down. My only complaint is that the book was not longer.
Saint Dominic Savio was always serious. He did everything in a way that was conducive to virtue. Today I look around and ask, "How does my generation compare?" My generation does not think of higher ideals. We are taught from our first moments to live for ourselves. Society goes into a crisis with this mentality. Men think they are women and vice-versa. Abortion and euthanasia are applauded. People no longer strive to live virtuously.
Does anyone think where this will end up? Heroes cannot exist without serious ideals. We need to turn to examples like Saint Dominic Savio to fix our brokenness and become an idealistic and virtuous generation.
Saint Dominic Savio, pray for us!