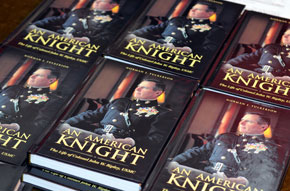 On October 27, the TFP Washington Bureau was filled with friends and supporters to hear a presentation on the book, An American Knight The Life of Colonel John W. Ripley, USMC just authored by TFP member Norman Fulkerson. The author presented the book to a full and lively auditorium of some 50 people and later personally signed copies.
As a special guest, Duke Paul of Oldenburg from the German TFP, gave the opening remarks commenting on the meaning of chivalry today. Also attending was Prince Bertrand of Orleans-Braganza.
Mr. Fulkerson recounted how he came to write the biography of this true American hero. He was impressed with the fact that Col. Ripley not only performed feats of arms but also how he took strong positions on politically incorrect themes like women in combat and homosexuals in the military.
The captivating story of this American hero is told from cradle to grave. Mr. Fulkerson said he wrote this book for all those capable of admiring the role models so conspicuously absent in these days. Among those attending were four members of "Ripley's Raiders," the legendary unit who fought with Col. Ripley in Vietnam.
The talk at the Bureau in McLean, Va. was one of the first of many book launchings.  The book has received acclaim from generals, military leaders and Medal of Honor recipients. To get your copy, click here.