Today, rain was forecast for the whole state. We were in a quandary because this would cancel any campaign. We confided in our patron St. Joseph and headed to Augusta, the capital of Maine.
We campaigned on the edge of a traffic circle. At first, things were rather slow (few cars and sporadic honks), but after about 10 minutes, things picked up tremendously. There were honks right and left and thumbs up all over. Even a local sheriff sounded his siren in support and gave us a thumbs up!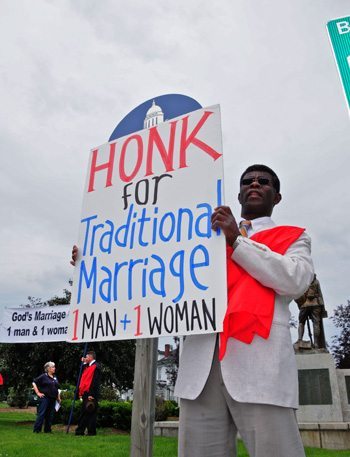 Truckers also voiced their continued support with honks that resonated throughout the circle. It is interesting to note that many people are supportive-giving us a "thumbs up"-but too timid to honk. However, when someone honks, many are encouraged to join in. At times, there would be a line of cars just honking with enthusiasm.
About twenty minutes into the campaign, local friends of the TFP came to help out until the end of the lunch hour rush.
After lunch, we set up again to catch the rush hour traffic. People of all ages and occupations continued to honk and gesture their support. Many of the younger Mainers support traditional marriage and are often the most vocal.
The proponents of same-sex "marriage" did little with two exceptions. One man in a small truck jumped the curb and attempted to hit one of us. The other incident involved a group of homosexuals that tried to antagonize TFP volunteers, and when that did not succeed, they threw handfuls of candy.
Just as we were taking down our banners to close the campaign for the day, it started to pour. St. Joseph really helped us out! As the campaign material was being put away TFP volunteer Rex Teodosio ran into a convenience store where a man recognized him and said "thanks so much for what you are doing, it's awesome!"
One of the ladies who joined us earlier invited us over to her house for dinner. Both the meal and conversation were very good.
Until next time, please continue to pray for the Traditional Marriage Campaign, especially for us here in Maine.
St. Joseph, Pillar of the Family, pray for us.
St. Gabriel, pray for us.
Contact the Caravan
To contact the caravan, email them at [email protected]
How to Support the Caravan
If you want to help protect the sacred institution of marriage, please consider filling our van's gas tank with fuel and keep us on the road for traditional marriage.
If you would like to make your contribution by mail, please send a check payable to The American TFP and mail it to:
The American TFP
P.O. Box 251
Spring Grove, PA 17362.