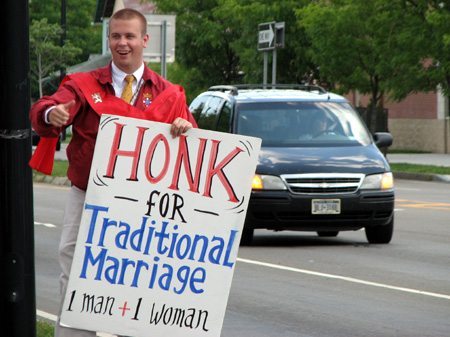 Campaigned for 40 minutes. We didn't hand out too many fliers but we did get loads of positive response. Before we even finished our initial prayers for the beginning of the campaign, passers-by began honking their horns. The impression was that over 50% were either honking their horns or giving a thumbs up. Several men honked with decision through the entire intersection where we were set up. One man didn't honk but simply held up his left hand to show his wedding band. One couple gladly took a flier and when I said we were doing a campaign in favor of traditional marriage the man said, "there is no other kind." Another couple proudly proclaimed their support and the lady held up three fingers: "We have been married 33 years", she said.
Two lesbians stopped right in front of us and kissed before spewing expletives and driving off. A few other people gave immoral signs as they drove by, but this was my first campaign on this issue and I was amazed at the support we received which totally outweighed any rejection.
Contact the Caravan
To contact the caravan, email them at [email protected]
How to Support the Caravan
If you want to help protect the sacred institution of marriage, please consider filling our van's gas tank with fuel and keep us on the road for traditional marriage.
If you would like to make your contribution by mail, please send a check payable to The American TFP and mail it to:
The American TFP
P.O. Box 251
Spring Grove, PA 17362.