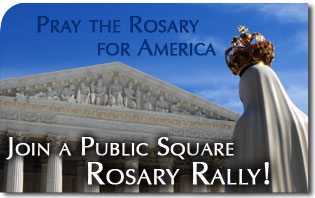 Where will you be on Saturday, October 10?
We invite you to pray for our nation in the public square this Saturday.
Here are the details.
Who? You, your family and friends.
What? Praying a rosary in the public square.
When? 12:00 p.m., October 10, 2009
Where? At 4,315 locations all across the country. Click here to find the rally closest to you.
How? Bring your rosary and signs to the location near you.
Why? To pray for the ills that afflict our nation. Click here for more details
Please consider joining the tens of thousands who will be attending this great event.