Thousands gathered on the east steps of the New York State Capitol building in Albany on Tuesday morning to defend the traditional marriage and oppose measures seeking to legalize same-sex "marriage" in the Empire State.The "Stand for Marriage" rally, organized by New Yorkers for Constitutional Freedoms, attracted throngs of New Yorkers who, instead of remaining silent, are determined and committed more than ever to uphold God's marriage.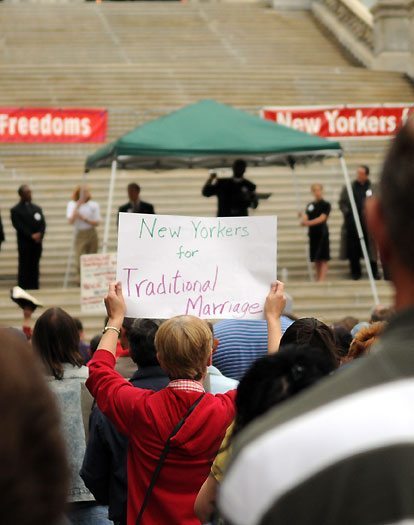 A similar rally held last month in Midtown, Manhattan, drew an estimated 20,000 people. However, despite the large turnout at both traditional marriage rallies, they did not receive much media coverage. Is the liberal media blind to huge demonstrations that promote moral values? Is the media blackout intended to give people the false impression that pro-traditional marriage advocates are a shrinking minority? It seems so.
But the large turnout at these rallies indicates that there is a strong and vocal reaction opposing the destruction of marriage in New York.
Featured speakers at the June 9 rally included New York State Senators Marty Golden, James Seward, and Ruben Diaz, as well as Rev. Duane Motley of New Yorkers for Constitutional Freedoms, Mr. Tony Perkins of the Family Research Council and Mrs. Maggie Gallagher of the National Organization for Marriage, among others.
Members of the American TFP attended the rally with a beautiful statue of Our Lady of Fatima, carried by two volunteers wearing the ceremonial habit of the organization. They also displayed a large banner, reading: "God's marriage = 1 man + 1 woman" and a poster: "Catholics reject same-sex 'marriage.'" Before entering the State Capitol building to distribute traditional marriage fliers, TFP members prayed a public Rosary, asking the Blessed Mother to intercede for us before the throne of God and preserve America from the sins of abortion and homosexuality.