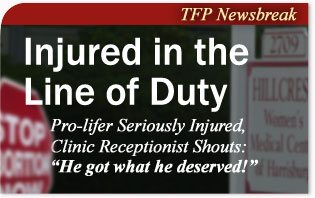 At 6:30 a.m. on Saturday, December 22, while most were snug in bed, resting up for Christmas activities, veteran pro-lifer Ed Snell was arriving at Hillcrest Abortion Center, in Harrisburg, Pennsylvania. He had come with two other activists to persuade women entering the clinic not to abort their pre-born children.
The group customarily meets at the clinic and has saved many lives. In fact, they have been so effective, that the clinic erected a 7-foot privacy fence to cut off all communication between the women and the pro-lifers. However, their efforts were scuttled, when the activists began bringing ladders so they could speak over the fence.
Mr. Snell, age 69, preferred to stand on a more solid foundation, so he constructed a plywood platform on the roof of his car to elevate him above the fence.
"This platform gives him a real steady base and a commanding view," said fellow activist and eyewitness John McTernan. As Ed stood on his platform that morning, a man and woman exited a car in the parking lot and proceeded towards that door of the abortion mill.
When Mr. Snell tried to counsel the woman, his words were cut short when the man became furious, jumped the fence and, in the words of Mr. McTernan, "leaped on the vehicle with Ed and catapulted him off of the vehicle and onto the ground." Mr. Snell hit his back and head on the pavement and was knocked unconscious.
His medical report outlines the extent of his injuries: "multiple trauma, right subarachnoid hemorrhage (bleeding in the area between the brain and the tissues that cover the brain), compression fractures of four vertebrae (T3, T4, T5 and T10), right scapula fracture and fracture of the fourth and fifth ribs." Before doctors were able to stop the bleeding in his head, they even feared Mr. Snell would die.
When asked on the phone about the vicious attack, the receptionist at Hillcrest Abortion Clinic refused to give a recorded statement and angrily shouted: "He got what he deserved! He earned what he got!" She then hung up the phone.
Immediately after the attack, Mr. McTernan ran over to Ed and was frightened to see that he was unconscious and breathing irregularly. He reported the attack to "911" and then shouted to the assailant: "You assaulted him and he is unconscious." Agitated, the man replied: "I did not assault him, I just pushed him," with an aggressiveness that made Mr. McTernan fearful for his own safety.
Ed was taken away in an ambulance and three police officers arrived to investigate. They went into the clinic, where the assailant was waiting. After a few moments, the assailant and his companion left the clinic freely, got into their car and drove away.
Shocked, Mr. McTernan shouted to the police: "What are you doing? That's him! That's the assailant!"
One cop replied: "It is none of your business!"
Mr. McTernan: "I am making it my business, Ed Snell is my good friend!"
The officer then threatened to arrest Mr. McTernan for interfering with a criminal investigation. Mr. McTernan replied: "Go ahead and arrest me, I am not afraid. I want to know why the assailant walked away from this scene where an elderly man was left unconscious. We have excellent attorneys and we will sue you if you do not do your job."
She angrily responded: "Don't threaten me or I will arrest you!" She then returned to the police car and drove away. At the time this article was written, the Harrisburg Police Department had not returned a phone call requesting a statement on the incident.
Once the extent of Mr. Snell's injuries were discovered, the assailant was arrested. Nevertheless, as Mr. McTernan put it: "I cannot imagine me [as a pro-lifer], striking someone connected with Hillcrest [Abortion Center], knocking them unconscious, the police coming, the injured person being taken away in an ambulance and the police letting me go. There is something wrong with that."
There is also something wrong with the lack of media coverage of the incident. At the time this article was written, a google search about the attack returned no results.
Ed returned home just in time to celebrate Christmas with his family. He was released from the hospital on Christmas Eve, just a couple of hours before Bishop Kevin Rhodes of Harrisburg arrived to pay him a visit.
Doctors expect him to make a full recovery, although it will take a long time. "Ed is very sore," said Mrs. Snell in a telephone interview, "he is black and blue and the doctor said that it will be a full eight weeks before his bones heal completely."
Mrs. Snell is thankful for the prayers that Ed has received and hopes these will continue. She feels confident that, supported by these prayers, he will recover well.
As for Mr. Snell, he is not yet accepting telephone calls, but feels humbled by all the prayers and attention he has received. A man of faith, he feels called to his work and remains undaunted. As Mrs. Snell aptly put it: "I know that the Devil is busy and that he does not like the work that Ed does, but if that is the case, then Ed is doing the right job."
Please keep Mr. and Mrs. Snell in your prayers and, due to the lack of press coverage, please email this article to all your friends.