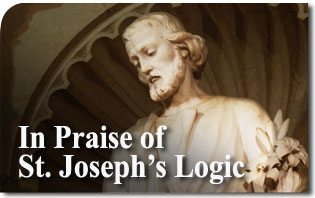 Question: What was the occasion in Saint Joseph's life when he practiced logic to a heroic degree?
Answer: It was the well known episode when he saw that Our Lady had conceived a child of which he was not the father. The Gospel mentions the matter. He was faced with an absurd situation. On one hand, it was evident to him that Our Lady was a saint because her sanctity shone forth in every way. However, on the other hand, he faced a situation that he could neither explain or live with.
Instead of denouncing her as was required by Hebrew law, he came to the only logical conclusion: "The unnecessary person in this house is neither this mother, who is the owner and queen of this place, nor the child she has conceived. I am the unnecessary one. I will take my leave and vanish. I don't understand this mystery, but I will not rise up against it. I will spend my days far off, venerating the mystery that I do not understand."
Thus, he decided that when midnight came, he would abandon the house and flee, leaving Our Lady alone with her mystery.
Consider for a moment the calm of Saint Joseph. Only logical people have this kind of calm. He had to abandon the greatest treasure on earth — Our Lady. This was an immense and unimaginable suffering for him. The Gospel relates that he was sleeping when an angel appeared to him in a dream and explained the enigma:
"But as he considered this, behold, an angel of the Lord appeared to him in a dream, saying, 'Joseph, son of David, do not fear to take Mary as your wife, for that which is conceived in her is of the Holy Spirit: she will bear a son, and you shall call his name Jesus, for he will save his people from their sins.' All this took place to fulfill what the Lord had spoken by the prophet: 'Behold, a virgin shall conceive and bear a son, and his name shall be called Emmanuel (Matthew 1:20-21).'"
We note that, in the midst of this incredible trial, Saint Joseph slept. He was about to travel and so he was resting for the journey. Overwhelmed by an enormous suffering, he slept nevertheless. The angel appeared to him explaining the situation. He went on sleeping. At dawn he awoke and life went on normally. This was the height of normality, the height of coherence, the height of logic!
See also:
The Nobility of the Holy Family & Prayer to Saint Joseph
Here Is the Story of Saint Joseph's Miracle at the Santa Fe Café
Saint Joseph's Altars: Giving of the King's Bounty