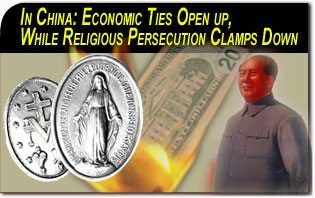 Many consider that pumping money into China's economy will automatically cause the downfall of Communism and restore freedom to the troubled nation. However, in spite of a continual increase in trade and economic ties, human rights violations and religious persecutions continue to plague innocent Chinese throughout the country.
A recent case demonstrates the fact. In the small mountain town of Tianjiajing, the government is planning to dynamite a 100-year-old shrine dedicated to Our Lady of Mount Carmel, where there is a yearly pilgrimage that draws 45-50 thousand faithful. The government has dubbed the pilgrimage an "illegal religious activity," and is going to tremendous lengths to ensure that the event does not happen.
These measures include requisitioning the shrine's land, closing all roads that approach the shrine and posting 700 soldiers who continually perform military exercises to intimidate any would be protesters and search anyone who approaches the area.
Worse yet, the government will not allow the faithful to remove a 100-year-old statue of Our Lady of Grace and 14 antique Stations of the Cross, insisting that they be blown up together with the shrine.
Originally, the shrine was built to thank Our Lady for the protection she granted local Catholics during the Boxer Rebellion. Perhaps inspired by this story, the local faithful have doggedly pledged to resist the shrine's destruction, cost what it may.
According to Asianews, a local parishioner reported: "We will never give in, we are not afraid, we will defend our legitimate rights to the very end." Meanwhile, the faithful from the diocese launched an appeal to Catholics around the globe, saying: "We ask all our brothers and sisters in the Lord to pray for us and spread our message to all the faithful."
Inspired by their heartfelt plea, the TFP web site is asking all its readers to pray for the courageous Catholics of Tianjiajing, spread their story and send an instant email to the US ambassador to China, Clark T. Randt, asking him to intercede to stop this abuse of human and religious rights.