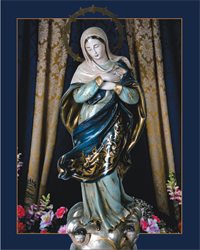 On the occasion of the 150th Anniversary of the proclamation of the Dogma of the Immaculate Conception, America Needs Fatima is launching a new campaign called the Immaculate Conception, Our Protection Crusade.
Starting in early August, the crusade has the immediate goal of reaching out to over 140,000 households with a special Commemorative Portrait of Our Lady of the Immaculate Conception. America Needs Fatima campaign director Robert E. Ritchie hopes support will allow him to reach 1,000,000 more by December 8.
Participants in the campaign will also receive an Immaculate Conception Memento with the exact words used by Blessed Pius IX to define the Dogma of the Immaculate Conception and a historic painting of that same Pope on parchment paper suitable for framing.
The Commemorative Portrait is blessed and ready to frame and will add a special spiritual presence in homes during this Marian Year. The invocation to the Blessed Mother has a special significance to American Catholics. Even before Pope Pius IX defined the Dogma in 1854, Catholics in America asked to have Mary Immaculate named as the nation's special Patroness.
"In this Commemorative Portrait, Our Blessed Mother is crushing the head of the serpent," notes Mr. Ritchie. "We need her now more than ever to crush the evils of abortion, pornography, the legalization of sodomy and homosexual 'marriage' in our nation."