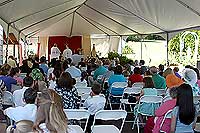 The America Needs Fatima campaign (ANF) seeks out occasions for like-minded Catholics to meet. Gatherings after Mass and even barbeques provide such opportunities. With this in mind, America Needs Fatima Custodian Jose Walter Ferraz held a barbecue at his home in Drums, Penn., on June 10. Around 200 people attended. The event began with the recitation of the rosary. Afterwards, Father George Bujnak celebrated the Holy Sacrifice of the Mass according to the Byzantine rite.
During a short coffee break after Mass, attendees discussed the barbecue's main event, a talk on an upcoming ANF initiative to sponsor 1000 public rosaries. These will be held in October to commemorate the 90th anniversary of Our Lady's Fatima apparitions. In this talk, ANF director Robert Ritchie stressed the importance of Our Lady's unheeded request for reparation.
Listeners strove to remain attentive, in spite of delicious smells wafting from the barbeque pit. Exiting the meeting, they confronted overflowing platters of steak, sausage, chicken hearts and breasts, pork loin, salad and other dishes. By the time everyone satisfied his appetite, almost nothing remained. Regional desserts from around the world followed in every shape and form.
Meanwhile, hostess Cynthia Ferraz directed her Our Lady Queen of All Hearts Choir in a presentation of songs from Germany, Italy, Spain, France and England. The choir is composed of local boys and girls. Miss Judy Matz, a Ferraz family friend and director of Family Music Ministry, then presented a string ensemble that played songs from various countries.
Our Lady blessed the day with that joyful conversation often present among Catholics. Hopefully, next year's ANF barbecue in Drums will be even more successful.
Local ANF family events are held across the country. Click here to send an email inquiring if one exists in your area, or call ANF customer service, at: (888) 317-5571.