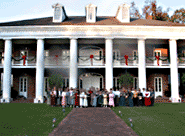 In an attempt to help stem the tide of ugliness, vulgarity, and downright rudeness which floods our post-modern society, our Louisiana chapter sponsored two-day events for mothers and daughters titled Good Manners and Social Graces.
From November 17 – 23, this mini-seminar, which was organized in Baton Rouge, Lafayette and Alexandria, emphasized the spiritual foundation of good manners, namely the virtue of charity or, the art of doing good unto others. The program also included classes on table manners, calligraphy to prepare place cards and invitations, how to make floral centerpieces and table setting. The ladies were very attentive throughout the sessions, each of which lasted at least two hours. Everyone particularly enjoyed the class showing how to fold cloth napkins into different attractive shapes.
Each event culminated with a high tea served in an elegant setting. In Baton Rouge, the whole program took place at the White Oak Plantation, an authentic reproduction of an ante-bellum plantation home. In Lafayette, the Social Tea was held in the Hilton, while the Alexandria Country Club was the site of the third tea.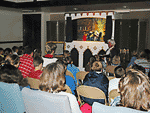 Who would have ever imagined how appealing traditional and elegant entertaining can be to a generation more accustomed to TV, video games and soccer as entertainment!
In the evenings of these same days, the St. Genevieve Puppet Theatre – a group of home schooling families visiting from Topeka, Kansas – presented the puppet show, The Story of the Acadians. This simple telling of the forgotten story of the persecuted French Canadian Catholics who settled in southern Louisiana charmed audiences of all ages.