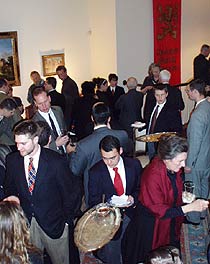 "The pro-life movement has an amazing capacity to unite, impassion and win. However if we are to win the whole Cultural War, we must go beyond pro-life." This was one of the conclusions of the meeting held at the TFP Washington Bureau on Tuesday, January 23.
Well over one hundred TFP members, friends and supporters crowded the McLean, Va. auditorium where Bureau chief Mario Navarro da Costa greeted foreign friends who joined the American TFP at the annual March for Life the day before. American TFP Vice President John Horvat gave a presentation on "Beyond Pro-Life, Fighting the Whole Cultural War" as part of the night of discussion and conviviality.
While professing an enthusiasm for the anti-abortion struggle, Mr. Horvat explained several ways in which conservatives can go "beyond pro-life." The first way was to go beyond life as a unifying principle. He pointed out that the pro-abortion movement does not explicitly unite around death but rather seeks the elimination of a moral law. Thus, pro-life Americans should take upholding moral law as its unifying principle.
Indeed the speaker showed how the pro-life movement wins victories when it frames the debate as a defense of moral law. This has forced pro-abortion radicals to abandon its sexual liberation and feminist roots and jeopardize its future.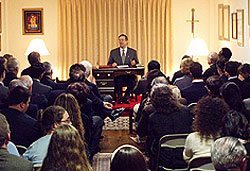 Mr. Horvat later extended this to show how the pro-life movement is a natural bridge to the moral law as a whole. By defending moral law in all areas, the underpinnings of the pro-abortion cause are uprooted. Finally, the speaker discussed practical applications of going "beyond pro-life" in one's daily life.
Honored guests at the meeting included Prince Bertrand of Orleans-Braganza, His Highness Kigeli V, exiled king of Rwanda, and members of the clergy. Friends from Europe such as members from France's pro-life organization, Droit de Naître, and contingents from Brazil, Italy, Germany and Australia were also welcomed. The American TFP was especially please to have present a large contingent of friends from Kansas who participated in the March for Life and extended their stay by one night to attend the event.
As usual, lively conversation continued long into the night underscoring the Christian ideals that united all present.