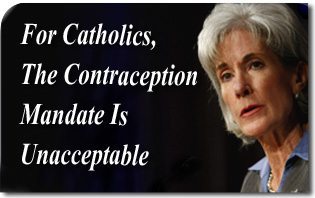 The HHS mandate requiring health plans, including those of Catholics, to provide contraceptives and abortifacients has created a clear opposition between this Administration and the Catholic faith.
Indeed, if a Catholic does not have the right to practice morals according to the dictates of nature and Revelation, then his freedom to be faithful to the Gospel of Our Lord Jesus Christ is curtailed and a religious persecution begins.
Destruction of Natural and Revealed Morals
It should be emphasized that the prohibition of employing artificial means of birth control is not a secondary or unimportant matter. First of all, because it is a moral issue and the Church cannot abdicate a moral principle no matter how small. For giving up one principle of morals is tantamount to renouncing morality as such.
This is because Catholic morals have two reference points: the natural law, which is a reflection of the eternal law (God ruling creatures) in human nature, and divine Revelation, which explains and confirms the natural law in the moral sphere.
If one point of natural law is denied, one destroys the ability of the human reason to distinguish good from evil and to guide the will to do good and avoid evil.
By refusing a point of revealed morality one also denies all of it by denying its foundation, which is the acceptance of God's authority as the source of Revelation.
The Church Cannot Fail to Teach Morality
Now then, as the Popes have stated, and particularly Paul VI in the Encyclical Humanae Vitae, contraception is against natural law and Revelation, so that the Church cannot give up her teaching.
Indeed, in this encyclical the Pope Paul VI says that Church teaching in this matter is "a teaching which is based on the natural law as illuminated and enriched by divine Revelation."1 He continues: "The Church, nevertheless, in urging men to the observance of the precepts of the natural law, which it interprets by its constant doctrine, teaches that each and every marital act must of necessity retain its intrinsic relationship to the procreation of human life."2 Whence the Pope concludes: "Since the Church did not make either of these laws, she cannot be their arbiter — only their guardian and interpreter. It could never be right for her to declare lawful what is in fact unlawful, since that, by its very nature, is always opposed to the true good of man."3
Commemorating the 40th anniversary of Humanae Vitae, Pope Benedict XVI reaffirmed its doctrine: "Forty years after its publication this teaching not only expresses its unchanged truth but also reveals the farsightedness with which the problem is treated."4
Soul of Martyrs, Mettle of Crusaders
One must be keenly aware of how serious it is to try and force Catholics to give up a fundamental point of natural and Revealed morals in order to understand why a Catholic must oppose the Obamacare mandate promulgated by HHS.
Are we going back to the times of lions and the Colosseum? While a Catholic must have the spirit of martyrs, preferring to die rather than betray his Faith, he must also have the mettle of crusaders in a peaceful and legal combat in defense of the true Faith.
Footnotes