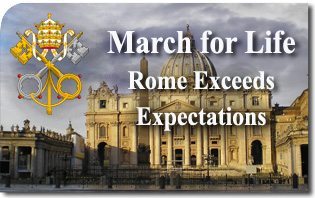 More than 150 Italian and European pro-life associations joined together as over 15,000 people participated in the first March for Life in Rome on May 13. Thousands of enthusiastic youth who affirmed Catholic teaching against abortion formed part of the crowd that drew almost three times the number expected.  The pro-life group, Voglio Vivere and other TFP-affliated groups from Poland and Germany were among the groups represented.
The march started at the Coliseum, wound past many historical sights and ended at St. Peter's Basilica at noon for the Holy Sacrifice of the Mass. The march was part of a growing number of such events in Europe, thus demonstrating the vitality and dynamism of the youthful pro-life movement in Europe.
Watch Video Here
Italian politicians, including Rome's mayor and Church officials took part. Especially worthy of note was American Raymond Cardinal Burke who presently resides in Rome. He often took part in the past March for Life in Washington D.C.
Read more: http://www.ncregister.com/daily-news/romes-first-march-for-life-exceeds-all-expectations#ixzz1v3GITldt