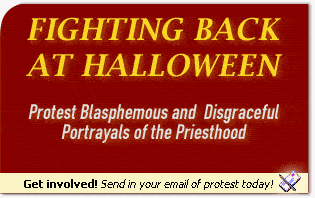 It only takes a few determined people to make a difference. Concerned TFP supporters were both shocked and disgusted to hear of an obscene priest costume available at the store in the local mall where children of all ages pick out their Halloween costumes. They decided to do something about it.
At a store in central Pennsylvania, TFP supporter Jose Ferraz asked the store clerk to show him the priest costumes. With some hesitation, she guided him to an area with "everything religious."
He noted that no other religions were represented in the aisle. Only Catholic portrayals were found. The offending costume "Happy Priest" is hard to describe in decent terms. Suffice it to say that it shows a priest in full cassock with a devise to create the effect of an obvious state of sexual arousal. A companion costume of a pregnant nun is often sold online.
Mr. Ferraz talked to the manager of the store about how offended he was by the display. He soon contacted others who were willing to protest such a disgraceful portrayal. He wrote to the local newspaper asking people who were offended to vent their opinions. Others called to protest to Spencer Gifts, one of the item's main distributors. Other Catholics nationwide took similar initiatives.
When Mr. Ferraz returned to the store to see if some action had been taken, he found the costumes had been removed. The assistant manager on site said that he also was offended and personally refused to sell the costumes even if asked to order it. Apparently, the other protests had also had their effect. Spencer Gifts, a major distributor, pulled the costume from its selection and apparently sent an order to stores on its distribution network to stop selling the costumes although it seems some store still insist upon carrying it.
However, the item was pulled off the Spencer Gifts website. Those with access to the old link to the item will find "Sold out, this item is no longer available" next to the picture of the costume.
While these protests have had their effect, the battle is not over. Several other websites still list and sell the offensive costume. The American TFP is asking its friends and supporters to keep pornography and blasphemy out of Halloween by sending an e-protest to those still selling the "Happy Priest" costume and its companion "Pregnant Nun" portrayal. It is also asking them to make follow-up calls at the numbers below.
It only takes a few determined people to make a difference…
To protest, please call below.
FutureMemories
800-660-0566
Order Costumes.com
603-432-4166
Fantasy Toyland, Inc.
888-583-3039
Bad Planet/Halloween Costume Shop
859-384-6009