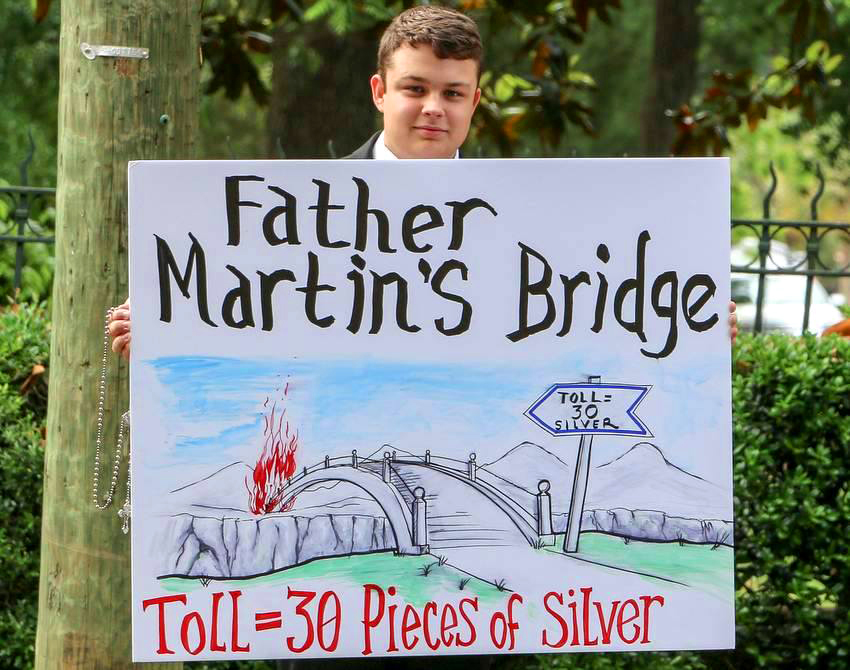 If any man be on the Lord's side, let him join with me (Exodus 32:26).
The Biblical cry resonates with those who protest against the evils of these times and ask fellow Americans to join them.
Thus, faithful Catholics gathered on October 20 and 21 to protest against the talks of Fr. James Martin, S.J., who was promoting his book, Building a Bridge: How the Catholic Church and the LGBT Community Can Enter into a Relationship of Respect, Compassion, and Sensitivity, at two Catholic churches in Atlanta. The outspoken priest has spoken throughout the country about the need to welcome those advocating Church acceptance of homosexual sin.
Members of the American Society for the Defense of Tradition, Family and Property (TFP) joined with one hundred other Catholics as they held a rosary rally on the evening of October 20 at St. Thomas More Catholic Church. Another rosary rally took place the next morning at the Shrine of the Immaculate Conception in downtown Atlanta.
Protesters handed out a TFP pamphlet that documented some of the many controversial statements by Father Martin, which are unacceptable from the point of view of Catholic morality.
The flyer notes that, according to media reports, Fr. James Martin:
Said that Catholics should "reverence" homosexual unions
Supports the acceptance of transgenderism for children
Favors homosexual kissing during Mass (sacrilege against God)
Calls pro-homosexual activist nun, Sister Gramick, a "saint"
Received a 2016 award from New Ways Ministry, a group condemned by the United States Conference of Catholic Bishops