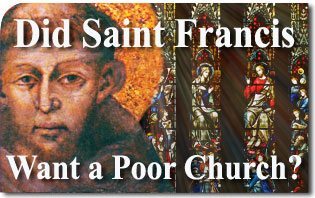 "I know what this is all about! I can see it from the title!" some reader might say.
Let those readers who are hostile to pomp in Church liturgy get ready for a surprise: Saint Francis advocates precisely the opposite, and how emphatically!
You don't have to take my word for it. Here is a letter from Saint Francis to all Superiors of the Friars Minor:
"To all Custodians of Friars Minor who receive this letter, Brother Francis, your little servant in God Our Lord, desires salvation with new signs from heaven and earth which, however great and excellent in the Lord's eyes, are nevertheless deemed as ordinary by many religious and others. I humbly and insistently ask the clergy to render the deepest reverence to the Most Holy Body and Blood of Our Lord Jesus Christ and to His written holy names and words that make His Sacred Body present.
"Let the chalices and corporals they use, altar ornaments and whatsoever relates to the sacrifice be finely crafted. And if the Lord's Body is kept somewhere in very poor conditions, let them set it in a richly decorated place and keep it carefully locked as prescribed by the Church; and let them carry it always with great respect and administer it with great discretion. Likewise, if the Lord's names and written words are found in a filthy place they should be collected and placed in a decent one. And in your preaching, exhort the people to penance and tell them that no one can be saved who does not receive the Most Holy Body and Blood of Christ. And when the priest offers it as a sacrifice on the altar, and wherever he may take it, let all the people bend their knees and render praise, honor and glory to the living and true Lord and God. Declare and preach His praise to all people so that at all times, as the bells ring, all peoples throughout the world may always render thanks and praise to Almighty God.
"And let all my brother custodians who receive this letter, keep it and have it copied for the brothers in charge of preaching and caring for other brothers, and who preach what is written in it to the end, know they will have the blessing of the Lord God and mine. And let this be imposed on them by virtue of the true and holy obedience. Amen."1
I finish where I began: In the name of obedience, Saint Francis of Assisi — the Poverello, the nature lover, the modest and simple saint recommends that altars be "richly adorned" in Church celebrations.
Let us praise the great Saint Francis, poor himself but richly adorned for Our Lord!
Read Also:
Balance and Harmony Between Riches and Poverty
Humility Is Compatible with the Rich Dress of One's Office
Humility, Magnanimity and Magnificence
Footnotes