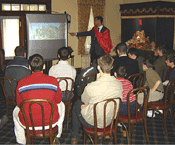 The American Society for the defense of Tradition, Family, and Property (TFP) held its annual Call to Chivalry Winter Camp from Dec. 29-Jan. 2. Holding firm to principles was this year's theme.
The goal was to fortify participants to stand up for Catholic principles in face of today's moral relativism.
Young men from all over the country played games, attended meetings, and learned about the importance of Christmas. They even engaged in debates in defense of their principles.
Two nights of the camp, they were kept on the edge of their seats by stories told around the dim light of the fireplace. One was a true story about a priest who risked imprisonment and even death, rather than break the seal of confession.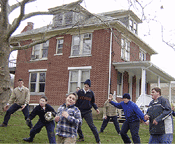 The boys also watched and took notes on a video about Intelligent Design in the universe. Later, they had a very lively debate on the issue in which they defended Intelligent Design. This was done in an effort to prepare them for situations they will encounter in their daily lives.
New Year's festivities are always a favorite of the winter camp. The boys sang the Nicene Creed literally as the clock bell struck midnight. The year 2006 had arrived! What a more fitting way to prepare for the new year then by proclaiming the beliefs of the Faith! Singing Christmas carols, they then also venerated a beautiful statue of the Child Jesus.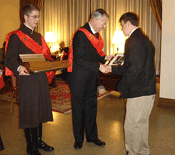 After prayers, all sorts of delicious Christmas goodies, carols, lively conversations, and other merriment were to take up the rest of the night. Most importantly, the night was filled with many graces and blessings.
The camp ended with a New Year's Day banquet. At the end, trumpets blasted and Blessed Urban II and his retinue entered the banquet hall. He then delivered the same fiery speech that he gave to the nobles at Clairmont, France which inspired the First Crusade.
Souvenirs were soon given to the boys by Prince Bertrand of Orleans-Braganza, a direct descendant of both King Saint Louis IX and King Saint Ferdinand III, both crusader kings. The souvenir was a framed picture of a knight with outstretched arms holding a scroll that says "CREDO," with the TFP lion in the background. Hopefully it will always be a reminder to the boys that it is not enough to have principles, but they must also be defended.