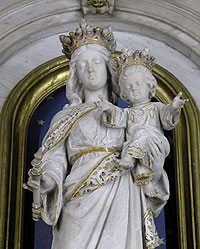 It is not easy to stop blasphemy. Those who ridicule the Faith are relentless in their depictions. The Comedy Central show, "South Park" is one such offender.
Its shows are constantly pushing beyond the limits of decency. Moreover, they find new ways of offending Catholics that often mix the obscene and the sacred.
Such porno-blasphemous portrayals are often so offensive that the protester has difficulty in describing what they are protesting.
That is hardly a reason not to protest. Catholics must be discreet, vocal and firm. They must keep up the pressure on the entertainment industry.
This is the case of a "South Park" episode called "Bloody Mary" rerun on Comedy Central last week. The cartoon episode depicts a "miraculous" statute of the Virgin Mary spraying menstrual blood into the face of a Pope Benedict XVI.
When this horrific episode was originally aired during Christmas season 2005, protests were such that the network agreed not to rerun the offensive cartoon. Now Comedy Central has reneged on its word, and Catholics have every right to express their outrage, demanding an apology.
Join the American TFP by sending an e-protest to Comedy Central president Tony Fox now!