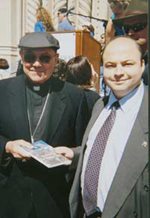 On April 3, over one thousand Catholics filled to overflowing the Church of Saints Peter and Paul in San Francisco. They attended a Mass in support of traditional marriage celebrated by Archbishop William Levada. Immediately afterwards on the church's steps, the archbishop addressed a pro-family rally organized by Your Catholic Voice and the archdiocese of San Francisco. Among the participants were members of the American Society for the Defense of Tradition, Family and Property (TFP) and its America Needs Fatima campaign.
Stressing the importance of the family, Archbishop Levada said the only way of nurturing children is through a father and mother. This is the way God made it and the only way society can be preserved. A group of 25 pro-homosexual activists heckled the archbishop during his speech but with little effect.
Ray Flynn, national president of Your Catholic Voice and former U.S. Ambassador to the Vatican, also spoke to the large crowd. Speaking forcefully, he said that tradition and family made up the bulwark of society and all must work to preserve them.
American TFP and America Needs Fatima members attended the rally and promoted the new book, Defending a Higher Law: Why We Must Resist Same-Sex "Marriage" and the Homosexual Movement. TFP representative Roger Vargas presented a copy of the book to the Archbishop.
The large rally in San Francisco did much to dispel the myth that the city is dominated by pro-homosexual sentiments.