""""[vc_column_text]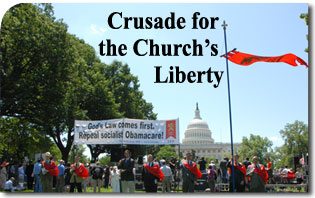 On June 8, American Catholics again voiced their opinion about the Obamacare mandate that would force Catholic institutions to help fund practices that go directly against the Church's teachings. The latest round of rallies had tens of thousands of protestors in 164 cities. Among the thousands of protestors could be seen red standards of the American Society for the defense of Tradition, Family and Property (TFP) blowing in the wind.
These rallies come as the Supreme Court is due to rule on the Affordable Care Act, otherwise known as Obamacare. Catholics and others have denounced the Act as a thinly veiled religious persecution.
The American TFP sent volunteers who raised standards in Washington, D.C., Bufallo, Albany and New York City, Los Angeles, California, Baton Rouge, Louisiana, Miami, Florida and Philadelphia and Harrisburg, Pennsylvania to protest Obamacare.
Here are some photographs taken at a few of the events.[/vc_column_text][/vc_column][/vc_row]""[vc_column width="1/2″][vc_single_image image="15046″ img_size="medium" title="Washington DC"][vc_single_image image="15047″ img_size="medium"][vc_single_image image="15048″ img_size="medium"][/vc_column][vc_column width="1/2″][vc_single_image image="15049″ img_size="medium" title="New York City, New York"][vc_single_image image="15050″ img_size="medium"][/vc_column][/vc_row]""""[vc_column_text]
Buffalo City
[/vc_column_text][/vc_column][/vc_row]""[vc_column width="1/2″][vc_single_image image="15051″ img_size="medium"][/vc_column][vc_column width="1/2″][vc_single_image image="15052″ img_size="medium"][/vc_column][/vc_row]