In his book, Pope Francis's "Paradigm Shift": Continuity or Rupture in the Mission of the Church?, José Antonio Ureta spells out many reasons for faithful Catholics to be concerned about the direction in which Pope Francis is taking the Church. Chapter five discusses the Pope's acceptance of the modern idea that all religions are equal and therefore trying to convert others is "nonsense." This excerpt illustrates his support for ideas that previous popes labeled as indifferentism.
✧

                    †                    

✧

The most visible manifestation of this deviation was the disturbing video portraying the pope's January 2016 intentions for the Worldwide Prayer Network. This first video was a new initiative that was widely disseminated on social media. It featured a Buddhist, a Jew, a Catholic priest, and a Muslim taking turns by saying, "I confide in Buddha," "I believe in God," "I believe in Jesus Christ," and "I believe in God, Allah." They are followed by Pope Francis, who says: "Many think differently, feel differently, seeking God or meeting God in different ways. In this crowd, in this range of religions, there is only one certainty we have for all: We are all children of God."1 Then, the pope gave the month's prayer intention, "that sincere dialogue among men and women of different faiths, may produce fruits of peace and justice." At the same time, each of the religious representatives presented a symbol of their respective creed. The final scene shows those symbols together. The arrangement places the Buddha statue in the highest position, below which is placed, the masbaha (Islamic prayer beads), with the Christ Child at the bottom, next to the menorah (the seven-branched candelabra of Judaism).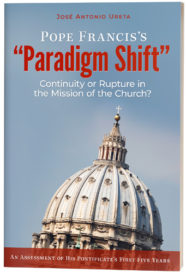 Pope Francis reportedly made two more disturbing statements that are consistent with the interconfessionalism promoted by this video. Both statements are found in his first celebrated interview with Eugenio Scalfari. The October 2013 conversation was transcribed by La Reppublica and republished in both L'Osservatore Romano and the Vatican's web site. In it, the pope asserted problematically: "I believe in God, not in a Catholic God, there is no Catholic God, there is God."2 The second statement is found later in the interview. Smiling at the idea of trying to convert the atheistic reporter, the pope said: "Proselytism3 is solemn nonsense, it makes no sense. We need to get to know each other, listen to each other and improve our knowledge of the world around us."4
*          *          *
José Antonio Ureta's book is a startling and disturbing assessment that should be read by every person who is concerned about the changes that Pope Francis is trying to force upon the Church. Purchase the book through the TFP Store or download it at no charge by using the link below.
Purchase the book, Pope Francis's "Paradigm Shift" here
Free Download Pope Francis's "Paradigm Shift" here
Footnotes