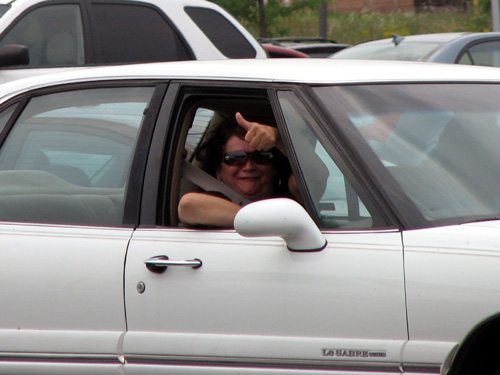 We had three very interesting campaigns today in the suburbs of Albany.
The first two were outside of shopping centers. One lady drove by at our first campaign and screamed out the window, "Adam and Steve is just as good as Adam and Eve." More amusing than this were the three people in cars who honked their horns yet disagreed and held up immoral gestures. One car held up the finger but kept honking.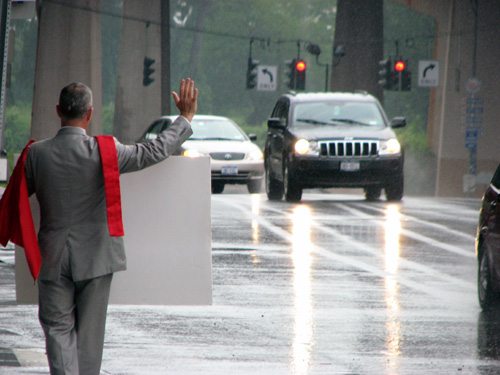 "Thank God for that [campaign]."
After lunch it began to rain very hard and did not show signs of letting up soon. We met up with two University students and found a very interesting location underneath two overpasses. It was so big we were able to raise the standard underneath. The slogans we yelled out echoed very nicely as did the record number of horns. The two students were amazed at what they saw. They knew the TFP from past YouTube videos of our traditional marriage campaigns in California and elsewhere. One of them watched them so many times he almost memorized our argumentation. Both were expecting a huge amount of rejection but were pleasantly surprised to find a high level of support.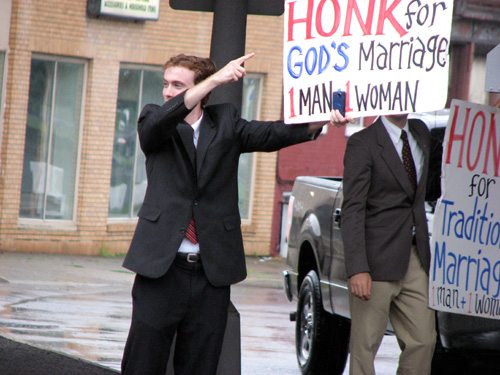 The most picturesque reaction we have had thus far was that of a black lady named Cynthia. She stood by the bus stop with a big smile so I approached and gave her a flier which she gladly accepted.
"This is wonderful", she said.
A little while later her bus approached but as I stood beside her she neglected to board.
"You are going to miss your bus", I said.
"I know, but I want to stay here", she responded. "Thank God for THAT [campaign]," she said, pointing to the ensemble of members of the TFP holding signs and the numerous passers-by honking their horns.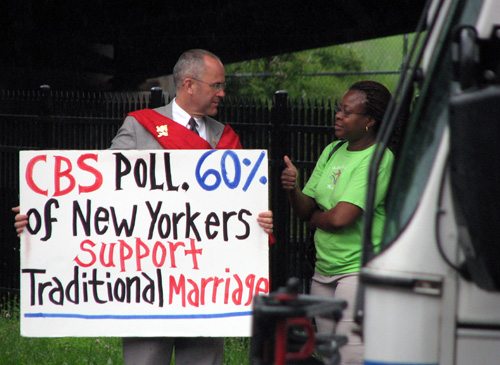 She then went over and sat down on a bench nearby so she could watch the campaign. There she remained for about 15 minutes with a smile on her face the whole time, exuding a profound joy. Seeing the happiness on her face was my greatest consolation of this entire trip. She represented a poor soul that was weighed down by the insanity of the modern world and did not know where to turn for help and then she, like so many others, heard the sound of many horns…
St. Joseph Terror of the Demons,
Pray for us!
Contact the Caravan
To contact the caravan, email them at [email protected]
How to Support the Caravan
If you want to help protect the sacred institution of marriage, please consider filling our van's gas tank with fuel and keep us on the road for traditional marriage.
If you would like to make your contribution by mail, please send a check payable to The American TFP and mail it to:
The American TFP
P.O. Box 251
Spring Grove, PA 17362.