""""[vc_column_text]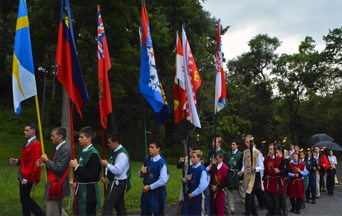 The American TFP has organized camps for young men over the last forty years. These educational programs, called "Call to Chivalry Camps" attract boys from ages 12 to 18 and seek to instill in them the same spirit of Catholic heroism and sanctity of ages past. To this end, each camp examines a period of history in Christendom that provides the overarching inspiration for the week to ten-day program. Examples of these include Catholic Mexico and the Cristeros; Poland and the Winged Hussars at the Siege of Vienna; Spain and the Reconquista; Portugal and the apparitions of Our Lady of Fatima; and Medieval France and the Vendee resistance.
The Call to Chivalry Camps use these historic events to present holy role models of the Catholic Faith in order to better face the present day crises of our time.
This year's camps, four in number, took Catholic Portugal as a theme. The impressive line up of educational talks focused on the medieval Military Order of Christ, Saint Nuno Álvares Pereira, Prince Henry the Navigator and, most importantly, Our Lady of Fatima and the centennial of her apparitions.
2017 Call to Chivalry Camp

Of course, no camp is complete without outdoor adventures. In this aspect the Call to Chivalry Camps also stand out. In addition to the hallmark medieval games, unique to these camps, favorite activities this summer included foam-sword-and-water-balloon capture the flag, rock wall climbing, an overnight camp out and hike, fencing lessons, firework displays and a public pro-life campaign.
In all, over one hundred and fifty participants benefitted from these programs this summer. A new generation of young Catholic men is eager to join the spiritual crusade for America's future. Here are some pictures for you to enjoy.
[/vc_column_text][/vc_column][/vc_row]""""[vc_gallery interval="0″ images="52070,52102,52103,52111,52119,52118,52110,52106,52117,52116,52112,52113,52104,52105,52114,52109,52071,52108,52107,52072″ img_size="full"][/vc_column][/vc_row]""""[vc_gallery interval="0″ images="52089,52097,52100,52096,52094,52088,52085,52086,52087,52093,52101,52098,52090,52099,52091,52092″ img_size="full"][/vc_column][/vc_row]