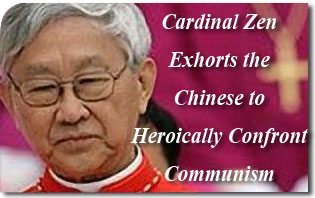 After the communist government in Beijing threatened to take away the freedom of Hong Kong, Joseph Cardinal Zen Ze-kiun, the city's Bishop Emeritus, reacted the way Catholics would like to see their bishops react in the face of blatant anti-Christianity.
Indeed, addressing the communist government on the radio, the cardinal said: "You can tie me up, abduct me or behead me, but you will never make a slave out of me.
And exhorting the people of Hong Kong not to give up in face of threats against their freedom, he warned: "If you bow [before Beijing's communism] by placing one knee on the ground, all will be lost," reported the Paris-based "Agence d'informations des Missions étrangères."
For many weeks, anticommunists in Hong Kong have been struggling to obtain a full and complete establishment of universal suffrage by 2017. This suffrage would be a great threat since, if universal suffrage were adopted, freely elected Hong Kong authorities would be anti-communist and Beijing would face serious difficulties to impose communism there.
The Catholic Church does not delve into merely political questions but intervenes when morals or good customs are threatened, placing the salvation of souls at risk.
Such salvation would run serious risks if socialism consolidated its domination in Hong Kong. Accordingly, Cardinal Zen intervened to ward off any 'middle-of-the-road' position to compromise with communism.
"Negotiation," he said "is not a valid option." And he exhorted the population to vote in a symbolic referendum called in favor of universal suffrage.
So that no shadow of doubt would linger, the courageous 82-year old cardinal walked through Hong Kong, street by street to convince citizens to vote. For seven days he visited every one of its 48 districts, walking twelve hours a day in the blazing heat and humidity of summer.
Due to restrictions imposed by the election law, he was accompanied by no more than thirty Catholics.
If only there were more anti-communist bishops with the mettle of Cardinal Zen!