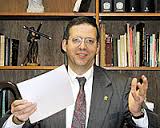 Education without principles is like a building without foundations. It is precisely to discuss a concern for these principles that students, teachers, scholars, officials and concerned citizens gathered for the Tenth Annual Foundations of Education Symposium at Topeka's Washburn University on November 4. The one-day event was organized by the school's Prof. G. Daniel Harden who put together an exciting program addressing topics ranging from the role of manners and civility in education to the influence of feminist studies and psychological testing in schools.
American TFP Vice President John Horvat spoke on "The Educational Importance of Manners." His talk complemented that of Kansas University Prof. James Hillesheim who likewise spoke on the quest for civility in troubled times.
"If we are to reestablish manners and their proper role in education," Mr. Horvat commented, "we must reconnect with the values and principles that gave rise to them and confront and disconnect with a culture that lives in denial of these very principles."
Educator Bevery Eakman, author of the book, The Cloning of the American Mind, discussed the disturbing trend of psychological testing in education. As director of the Maryland-based National Education Consortium, Mrs. Eakman believes such testing and the use of test data institutionalizes the abandonment of moral absolutes and enthrones moral relativism.
In a similar vein, Prof. Gregory Schneider from nearby Emporia State University spoke on the effects of entrenched feminism on the quality of education in today's university.
Local Kansas educational concerns where addressed by Karl Peterjohn of the Kansas Taxpayer's Network and newly elected Kansas State Commissioner of Education Robert Corkins.
As always, the program proved thought-provoking and challenging. However, this year's participants were especially pleased with the excellent topics and discussion. Attendance at the annual event is growing and the conference is fast becoming an important date on the region's education calendar.