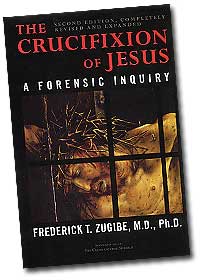 Rationalism and empiricism have greatly influenced the modern world. Unless something can be touched or seen, it is deemed useless or even nonexistent. Because of this, man's capacity for meditation and the practice of religion is greatly hampered.
Thus, when a book claims to bring religious themes to life and give scientific explanations of sacred events, it demands consideration.
Such is the case with Frederick T. Zugibe's 2005 book The Crucifixion of Jesus: A Forensic Inquiry. In the first part, Dr. Zugibe applies thirty-four years experience as chief medical examiner for Rockland County, New York, to give a forensic description of the Passion and Death of Our Lord. The second part is an investigation of the major issues surrounding the Holy Shroud of Turin.
The first part discusses the Sorrowful Mysteries: the Agony in the Garden, Scourging at the Pillar, Crowning with Thorns, Carrying of the Cross and Crucifixion. Each episode is a skillful combination of piety and scientific objectivity that begins considering Scripture, then analyzes the historical knowledge of the event and finishes with an explanation of the effects of that episode on the Sacred Body and a vivid description of the pains Our Lord endured.
In the section on Our Lord's agony in the Garden of Olives, Dr. Zugibe explains the mechanism whereby the body can sweat blood. In times of great fear, the body responds with what is know as a "fight or flight" reaction which causes the blood to concentrate in the muscles and brain, where it is most needed.
This leaves a dearth of blood in the skin, turning it pale and clammy. The capillaries that feed the sweat glands are also starved of blood. Once this process has run its course, a reverse action takes place and blood rushes back into the skin and thus, into these capillaries. If the reaction is violent enough, the blood rush can burst the capillaries and introduce blood directly into the sweat glands from where it is excreted onto the skin.
This corresponds perfectly with Saint Luke's Gospel, which states that Our Lord sweat blood, only after the angel had come to comfort Him.
These technical details are rich with considerations of a higher order. For example: the Agony in the Garden represents the first blood that Our Lord shed during His Passion. That this blood was not shed until after Our Lord fully accepted His Passion and put an end to the "fight or flight" reaction confirms that He suffered and died as a result of internal consent. Thus, it is fitting that His blood began to flow, only after He prayed: "Father not my will, but Thine be done" (Luke 22:42).
Also fascinating are Dr. Zugibe's conclusions that the nails that fastened Our Lord to the Cross must have gone through the palm, not the wrist, and his proof that the cause of death by crucifixion is shock, not asphyxiation.
While no one can challenge Dr. Zugibe's conclusions or expertise as a forensic pathologist, it would be a stretch to claim that the book's first section is faultless.
First, much of Dr. Zugibe's criticism of Mel Gibson's The Passion of the Christ, seems more personal than scientific. For example: the author outlines eight main points in which the film departs from his conclusions. One point claims that the portrayal of Our Lord's scourging was much more brutal than it could have been in reality. Another point claims that the amount of blood shown on the ground was excessive because Our Lord was not scourged enough to produce that kind of blood flow.
However, it is left unclear whether the amount of blood portrayed is consistent with the type of scourging portrayed. If so, these two points must be reduced to one.
He also complains that Our Lord did not scream in pain during the film's rendition of the Crucifixion. However, considering that Our Lord was God as well as man, it is reasonable to imagine that He did not scream out in pain.
Neither does Dr. Zugibe give the mystics a fair hearing. He betrays some sympathy for Saint Bridget and is correct in stating that much of what survives as the visions of Catherine Emmerich were not penned by her at all. However, he dismisses Venerable Maria of Agreda, saying: "Pope Clement XIV allegedly forbade the continuation of Maria of Agreda's beatification because she declared in her book that one must believe everything she says."1
This is misleading and improbable. First, history recounts that Venerable Maria only wrote her visions out of obedience to her confessor. Furthermore, she joyfully burned the first manuscript immediately after a visiting priest suggested that they were a trick of the devil. What survives today is a rewriting of the first work that she was ordered to make when her confessor returned. It is unlikely that a woman who demonstrated such humility would demand that others believe her writings; she was suspicious of them herself.
Concerning Church approval, Venerable Maria of Agreda's work (published in English as The Mystical City of God) is one of the most widely studied books in Church history. All the major Catholic universities in Europe and fifteen religious orders scoured it to find doctrinal errors or problems of consistency. In addition, the Spanish Inquisition studied the text for fourteen years.
The only institution to find fault with it was a Jansenist element at Paris' Sorbonne University. Louvain University even opined that it was impossible for a simple nun to touch on such sensitive points of doctrine for so many pages, without somewhere contradicting Church teaching or herself, unless she were assisted by "particular help from on High."
Doubtless, Venerable Maria's work was controversial in its early history, as were many other saintly authors. Saint Louis de Montfort and Saint Ignatius were both censured for substantial periods of their lives. Nevertheless, Pope Benedict XIV officially vindicated Venerable Maria's work in 1749.2
Summarizing the first part, Dr. Zugibe's conclusions and expertise are flawless from a forensic perspective, though he does not always allow for the miraculous and extraordinary in Our Lord's Passion, nor does he give the mystics a fair hearing.
The book's second part is even better than the first. After reading page after page of scientific evidence in support of the Shroud's authenticity, one is convinced that it truly is the burial cloth of Our Lord.
Dr. Zugibe's work must be one of the most complete examinations of the Holy Shroud ever compiled in a single volume. Some of the topics discussed are the Shroud's history, postmortem interpretations, three dimensional rendering, possible ways the Shroud image was made and pollen, blood and weave analysis.
One notable section deals with the controversial 1988 Carbon-14 testing which purportedly proved that the Shroud was a medieval forgery. This one test nearly dealt the deathblow to Shroud research, despite the known fallibility of Carbon 14 testing and hundreds of prior studies supporting authenticity.
However, Shroud research is making a comeback thanks to researchers like Joe Marino and Sue Benford. In face of the Carbon 14 test results, they refused to believe that the former studies had been flawed. They were convinced that something must have gone awry with the Carbon 14 analysis.
Their investigations have paid off. Their research demonstrates that the area of the Shroud submitted for Carbon 14 analysis came from a patch that was woven into the Shroud during the Middle Ages, to repair a damaged section. This vindication offers hope for the future, when more detailed and conclusive research is expected.
Dr. Zugibe's The Crucifixion of Jesus: A Forensic Inquiry is an outstanding research work and would be an excellent addition to the library of anyone with a taste for technical or scientific writing. However, readers are cautioned that many of the book's pictures and themes are graphic, as much of Dr. Zugibe's research involved cadavers.
Nevertheless, in the image-oriented modern world, hard facts about sacred topics can do a great apostolate. This is the true value of The Crucifixion of Jesus. It brings Christ's Passion to life and will hopefully bring light to those blinded by doubt in the existence of anything beyond what they can see or touch.
Hardcover: 352 pages
Publisher: M. Evans and Company, Inc. (April 2005)
ISBN: 1590770706
Price: $18.87
Footnotes
Dr. Frederick T. Zugibe, The Crucifixion of Jesus: A Forensic Inquiry (M. Evans and Company Inc., New York, 2005) p. 61.