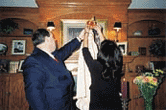 Many families have always wanted to enthrone the Mother of God not only in their hearts but also in their homes. Now, you can bring Mary into your home!
The process is simple. Click on the link below and fill out the form, and we will contact you when a Fatima custodian will be traveling in your area. Due to the great demand for home visits, we cannot guarantee an enthronement date. We will, however, try our hardest to schedule a visit.
Upon confirmation of a time and date with our scheduling office, you will receive a package outlining all the details for the visit. Please do not hesitate to give us a call should there be any problems.
During the visit, the procedure is simple. The statue is enthroned in a prominent place. She is then crowned. Then, the accompanying Fatima custodian gives a short speech which is followed by a twenty minute audiovisual on Fatima. A rosary then follows. Last but not least, there is a little time to socialize with family and friends on this great occasion.
If you have another possible location to enthrone Mary, such as a school, a church, or a group meeting, please do not hesitate to contact us and special arrangements will be made.
Thank you and God bless you and your family for taking the time to enthrone Mary in your homes and hearts. To be added to our list to receive a visit when a Fatima custodian is in your area, please click here.