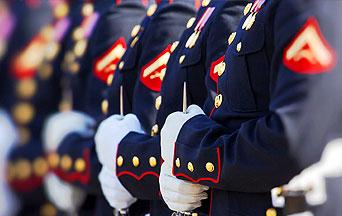 What is better than fighting against socialism? Fighting socialism with a retired brigadier general of the United States Marine Corps.
As part of an anti-socialism tour of Florida, volunteers of the American Society for the Defense of Tradition, Family and Property (TFP) visited Naples and Tampa on June 7 and 8, respectively.
A Hero Joins the Campaign
During the campaign in Tampa, a brigadier general, USMC (Ret.), joined the TFP volunteers in the sweltering heat. The Vietnam War hero stood with the TFP volunteers for a long time and continually encouraged them.
"I want you to know how much I admire you," he said. "You demonstrated today guts, courage—the most important virtue in my mind. Because if you don't have courage, you are not going to be around long enough to exhibit the other virtues."
"I am proud to have been with you today. It is special for me."
"I Got Those [Medals] for Killing Communists"
Before departing, the general told two gripping stories: How he received the Silver Star in Vietnam, a country devastated by communism, and an encounter with a Soviet operative in Moscow.
In Vietnam, his men were bogged down by a heavily fortified communist position. After calling in heavy air support and firing all he could at the position, his company had still not dislodged the enemy. He told his men to "fix bayonets!" one of the few times this order was given in Vietnam. "When I gave the order," he explained, "I could feel a steely resolve go out through the whole company." Personally leading his company in the bayonet charge, he successfully took the fortified position, with great losses for the communists.
The other anecdote was about embassy duty in Moscow. He was taking an elevator while holding his uniform over his shoulder. Before the doors closed, a man assigned by the Russian government to follow him jumped in. The Russian asked what the medals on his uniform signified. As he stepped out of the elevator, he replied, "I got those for killing communists."
Always on Campaign 24/7
TFP volunteers stopped at a grocery store in Naples for lunch. A friendly employee handing out samples of peaches asked why they were dressed in coat and tie. One of the TFP members told the worker about the caravan and gave her a "10 Reasons to Reject Socialism" flier. Later on, she said, "I read the entire flyer. It is really good; please tell me more about your group."
Then a young man approached with questions. He too was Catholic and wanted to know more. He was given a Miraculous Medal and was extremely thankful.
Many "chance" encounters like this took place, prompting TFP volunteer Joseph Dunlap to say, "Even when we are not on the street, we are on campaign 24/7."
Did you know the Nazis were socialists?
During the campaign in Tampa a very angry man who liked socialism called the TFP members "fascists."
TFP: "That is not true. Our founder fought against fascism before World War II."
Socialist: "You are probably pro-life."
TFP: "Of course!"
Socialist: "Being pro-life is fascist."
TFP: "Being against murder is fascism?"
Socialist: "My family survived the holocaust."
TFP: "Well, don't you know the Nazis were socialists? Socialism and fascism are different heads of the same snake."
Socialist: (Silence…).
However, most of the reactions today were favorable, such as:
"You are all great, but that flag, that is awesome!"
"We need you right now!"
"I watch your videos."
"You are the best people in the world."
Please continue to pray for the St. Anthony Mary Claret Caravan as it continues to fight against socialism in Florida.
Photo Credit:  © Curioso.Photography — stock.adobe.com