Americans love heroes. Something about them grips the American soul.
Perhaps the attraction lies precisely in going against the zeitgeist of this hedonistic age. Heroes are outside the box.
They do not fare well in a culture where real living has been reduced to pre-packaged experiences and media-generated events. They get lost in consumer mazes where they are constantly told to enjoy life. Heroes do not sign multi-million dollar sports or advertising contracts.
Heroes rise above mass-markets and mass media and quench the thirst of postmodern man by speaking of honor, courage and sacrifice.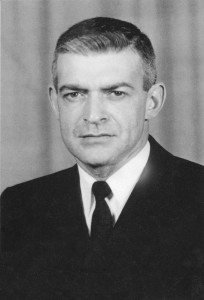 Above all, heroes, especially those in combat, rise above complacency, self-interest and comfort. They completely mobilize all their resources, with the highest degree of dedication for a determined ideal. And that is why they are held in awe.
A Catholic Hero
While American heroes somehow still sprout from the sterile soil of a hostile culture, it is not often that one finds a Catholic hero. That is why the recently-published book The Grunt Padre is a pleasant surprise. It is the thrilling narrative of American Catholic heroism without Hollywood embellishment or sentimentality.
The story could not be more American. Vincent Capodanno grew up in the thirties and forties in a large Italian-American family on Staten Island. His was a typical education of an ordinary American of his time. He responded to the call of his vocation and joined the Maryknoll missionary order. Upon ordination in 1958, he served in Taiwan and later Hong Kong.
His life might well have ended in the quiet dedication required of missionary life in faraway lands. However, in the mid-60's, the direction of his life abruptly changed when he volunteered to serve as a Naval/Marine Corps chaplain in Vietnam. While studying history at Mount Saint Mary's Seminary in the nineties, author Fr. Daniel Mode unexpectedly uncovered the deeds of the remarkable Fr. Vincent R. Capodanno.
The Grunt Padre
In his new assignment as a Navy/Marine Chaplin, Father Capodanno found a parish among the "needy." He sought the lonely Marines, the "grunts" who were exposed to death, suffering and sacrifice. He felt a compelling desire to be with these forgotten parishioners in their greatest hours of need.
On April 30, 1966 Father Capodanno began a sixteen-month tour with the 7th and 5th Marine Regiments where he became "the best known and sought after chaplain in the Marine Corps."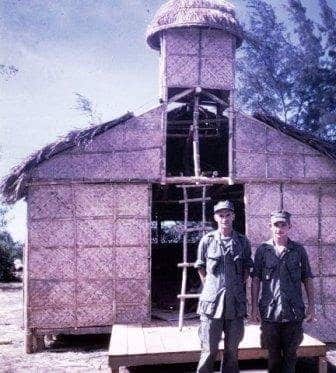 "What set Father Vincent apart was the way he lived his ministry with the Marines," writes Father Mode. "He was not a religious leader who did his job and then returned to the comfort of his own circle. He lived as a grunt marine. Wherever they went, he went. Whatever burdens they had to carry, he shared the load. No problem was too large or too small to take to Father Vincent — he was available to them day and night."
The soldiers responded to his devotion and soon he became affectionately known to his Marines as "the Grunt Padre."
Beyond Duty
Thus began an active life of dedication and service that went beyond the call of duty. He became a true father to young boys on the front lines.
He was "out there" with his men where he lived, ate, and slept as they did. To the young recruits thrust into the terrifying reality of battle, he was always available in his tent where anyone could drop in for comfort and guidance.
He shared his salary, rations and cigarettes with anyone in need. He could always be counted upon for a cold soda or a book from his reading library. When Christmas came around and soldiers felt forgotten, Father Vincent saw to it that no Marine was without gifts which he obtained through a relentless campaign from friends and organizations all over the world.
More importantly, he heard confessions for hours on end, instructed converts, and administered the sacraments. His granting of General Absolution before battle unburdened the consciences of the Marines and instilled in them to fight with courage. His mere presence in a unit was enough to lift the morale of all on patrol.
When men died, he was at their side so they would not die alone. He gave them Last Rites encouraging them to repent and persevere. In addition, he wrote countless letters of personal condolence to parents of wounded and dead Marines and offered solid grounding and hope to fellow Marines who lost friends.
When the pseudo-peace movement began to oppose the war, Fr. Vincent raised the spirits of demoralized soldiers in the field. He encouraged his men to oppose that same brutal communist system, which still oppresses Vietnam today.
Battle Missions
However, it was in battle where Father Capodanno excelled and inspired. He would find out from friends in military intelligence which unit was most likely to encounter the heaviest contact and volunteer for those assignments.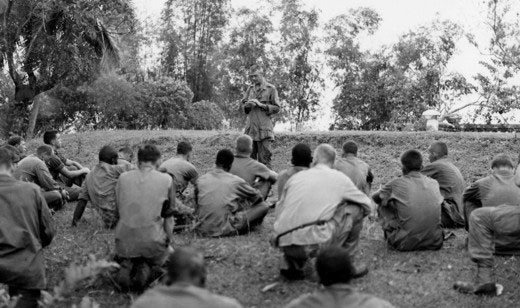 Marines would find him walking dangerous perimeters and keeping company with them in distant jungle outposts. The Grunt Padre could be seen leaping out of a helicopter in the midst of battle. He would care for the wounded, bless troops, and give communion to Catholics, before taking off for another battle zone.
Father Mode's book is full of stories from veterans who recount his exploits. He collected and still receives inspiring eyewitness reports that testify to his zeal for souls.
When his tour of duty came to an end, he obtained an extension. Despite the prosaic conditions of battle and an ecumenical chaplain corps, nothing could deviate him from his burning desire to give everything in the service of God, the Church and his men.
Faithful to the End
On September 4, 1967, the helicopter carrying him to the site of battle crashed during a large-scale offensive named Operation Swift. The 5th Marines found themselves in dire straights, outnumbered 5-to-1 by 2500 North Vietnamese regular troops.
Although wounded three times in the course of the battle, Fr. Capodanno refused to be evacuated by medevac. Like a ray of hope in the midst of the storm, he went up and down the line caring for the wounded and anointing the dying.
During the fierce fighting, the chaplain spotted a wounded corpsman hit by a burst of automatic fire and unable to move. Fr. Capodanno ran to his aid and began to care for his wounds. A Viet Cong machine gunner opened fire. With 27 bullet wounds in his spine, neck, and head, the Grunt Padre fell in battle, serving his men to the end.
All over Vietnam, the Marines mourned their Padre.
Beyond Death
The memory of Father Capodanno's sacrifice went beyond his death. His actions on the field of battle that day won him the nation's highest honor–The Congressional Medal of Honor.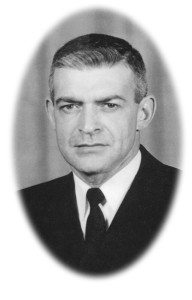 Despite the pacifist objections of 73 Maryknoll priests, brothers and seminarians, the Navy commissioned a destroyer escort in 1973: the USS Capodanno. Numerous other memorials and statues have gone up in his memory.
The recently published book, The Grunt Padre has served to inspire many Catholics who hunger for stories of Catholic heroism. His memory pierces through the cynical protests of the sixties and seventies that together with defeatist politicians consigned Vietnam to its present fate.
Above all, the story of Father Capodanno is a striking reminder that the time of the Catholic hero is not over. When imbued with total dedication, each and every Catholic can have an enormous value in the life of the Church. Modest though they may be, men like Father Capodanno can obtain the fire, integrity, dedication and conviction whereby they want their ideal, want it entirely, seek nothing else but their ideal and do everything to obtain it. Men like these move history. They strike that deep chord that awakens admiration and awe.
Those are the souls that have always characterized the Church. They reserve nothing for themselves, and give everything to God.
>by Fr. Daniel L. Mode
Paperback – 212 pages (2000)
CMJ Marian Publishers;
ISBN: 1891280082
$15.95