The following morning we were able get our bearings. Most warmed up with hot coffee before hitting the showers, after which a hot breakfast of eggs and bacon was served. All of us wanted to get an early start to prevent a repeat of the previous night: setting up camp in the dark. We needed to do about 690 miles and if we're lucky we could do it in 11 hours. Continuing on Interstate 80, we traversed the rest of Iowa, marched on through Nebraska, and finished the day in Laramie, Wyoming.
The metamorphosis of the landscape was impressive, a far cry from the Appalachian Mountains of central Pennsylvania we have come to know so well. At first, enormous farms dotted the rolling hills of Iowa and Nebraska, surrounding us with endless fields of crops almost ready for the fall harvest. Later, the land became so flat that power lines appeared to be like sticks as they vanished on the horizon. Buffalo, pronghorn antelope, and horses were the only locals we saw. As we entered Wyoming, small hills came into view with the occasional pyramids of rock jutting out of the ground. These rocky points, small at first, proved instead to be enormous boulders stacked like toy blocks. They dwarfed the few trees and trailer homes around them.
As the sun set, we passed the Medicine Bow National Forest, a more-than-one million acre park of forests and mountains. Its highest peak, Medicine Bow Peak, is 12,013 ft. high. We finally arrived at our campsite in Laramie, set up our tent, had dinner, and quickly hit the sack.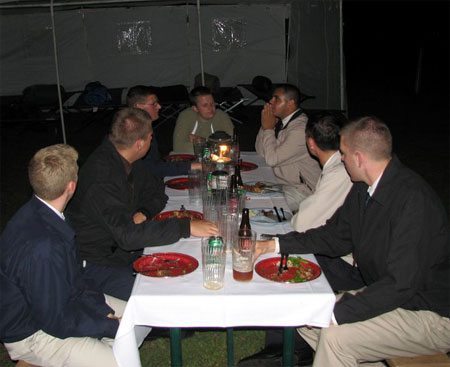 How to Support the Caravan
If you wish to support this vital endeavor with a gift, please click below.

If you would like to make your contribution by mail, please send a check payable to TFP Student Action and mail it to:
TFP Student Action,
1358 Jefferson Rd.
Spring Grove, PA 17362.
We've already traveled over 3,000 miles for traditional marriage and it takes some $107.00 to fill our van's gas tank. Thank you for considering a gift to this cause. God bless you!