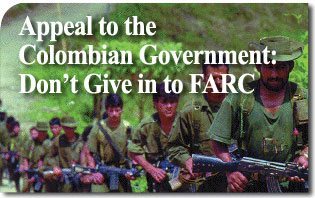 On December 13, the Colombian Society for Tradition and Action published in Bogota's daily El Tiempo a hard-hitting statement on the peace process being negotiated with the Revolutionary Armed Forces of Colombia (FARC), the Marxist guerrilla movement that has terrorized the nation for decades.
The full-page position paper titled "You Cannot Fool Everyone All the Time" analyzes the key aspects of the negotiations now taking place in Cuba. It decries the fact that the FARC terrorist group has been defeated by the nation's armed forces yet the group is being given victory in the negotiations. Among the provisions criticized was the setting up of so-called Peasant Reserve Zones in 150 areas of Colombia which will implement socialist and confiscatory land reform and serve as bases for FARC.
The appeal took the government to task for making other wide-ranging concessions such as allowing the guerrillas to keep their weapons or not requiring them to free their hostages. Signing a peace agreement in these conditions would be a serious and unacceptable failure on the part of the Colombian government.
The communiqué also pointed out the criminal role of the Marxist guerrilla group in the drug trade. It is now the single largest drug cartel in Colombia, replacing the previous ones which have disappeared.
The document concludes by stating that Colombia will never achieve true peace under the conditions of the new accord.
To see the full statement

click here

.