Chanting "Leave the Church alone! Leave the Church alone!" 4,200 faithful Catholics gathered outside the State Capitol Building in Hartford, Connecticut, on Wednesday to oppose Senate Bill 1098. The proposed bill directly attacks the hierarchical nature of the Catholic Church and attempts to usurp the rightful authority of bishops and pastors in Connecticut.
For many, the driving force behind this latest assault against the freedom of the Church is clear: pro-homosexual politicians and dissident Catholic pressure groups are eager to silence the Church's voice on moral values and remove every obstacle in the way of the homosexual movement's advance. A printed statement distributed by TFP volunteers to every office in the Connecticut Legislative Office Building titled "Leave the Church Alone!" demonstrates how same-sex "marriage" advocates and wayward Catholics are uniting to harm the Catholic Church.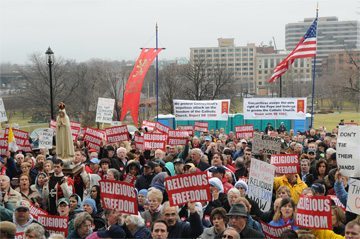 "This is much more than a simple piece of bad legislation, there is a broader fight going on between good and evil," observed one rally participant referring to SB 1098. Another pro-life activist stated: "They are doing this because they hate the Church."
Most Rev. Henry J. Mansell, Archbishop of Hartford, and other Connecticut Catholic bishops addressed the large gathering from the steps of the Capitol building. The Knights of Columbus sent delegations to the rally and busloads of Catholics from across the state converged under a light drizzle to defend the Church.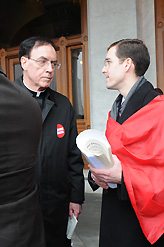 The American TFP sent a group of ten volunteers from Pennsylvania to attend the rally, serve as escort to a statue of Our Lady of Fatima, and display two large banners, reading: "We protest Connecticut's iniquitous attack on the freedom of the Catholic Church. Reject SB 1098!" and "Connecticut usurps the sole right of the Pope and bishops to govern the Catholic Church. Down with SB 1098!"
Although the original public hearing for SB 1098 was abruptly cancelled by Judiciary Committee co-chairs Rep. Michael Lawlor (D) and Sen. Andrew McDonald on Tuesday, an informational hearing was held by the House and Senate Republicans at noon on Wednesday. At this hearing, dozens and dozens of concerned Catholic members of the clergy and laity testified against the bill.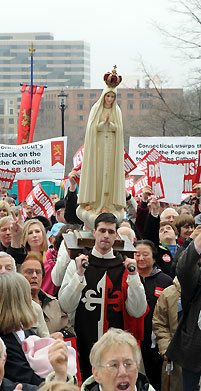 In fact, the shear volume of phone calls and emails opposing SB 1098 was enough to shut down the switchboards of the State legislature.
SB 1098 stalled. Hopefully it is dead for good.
However, constant vigilance is vital because the Catholic Church is being singled out and persecuted. Similar attacks are likely to surface again around the nation. As faithful servants, let us redouble our resolve to defend Her and renew our faith in Our Lord's divine promise to St. Peter: "That thou art Peter; and upon this rock I will build my church, and the gates of hell shall not prevail against it" (Matt. 16:18).
For the full TFP "Leave the Church Alone!" statement, click here.