Every year, when the weather heats up and the days lengthen, boys from across the country eagerly prepare for the TFP Summer Program.
Titled "Catholic Character and Courage," this year's program, was held from August 10-19 was one of the most exciting ever. boys from ages 12-18 traveled to TFP headquarters in Spring Grove, Pennsylvania.
Using educational methods developed by Saint John Bosco, the TFP Summer Program combined outings, sports, prayers and formative lectures in a very lively way. This ensured that the boys would profit spiritually, without getting bored or overwhelmed.
This years lectures included historical analyses of the Siege of Malta, the Holy Roman Empire and the life of St. Louis IX. Other presentations included talks on the importance of the rosary, the necessity of good manners and the problem of egalitarianism. Interspersed were short skits, such as an historical play on the Protestant Revolution.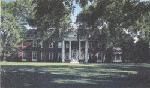 The boys also made a sightseeing trip to the nations capital, Washington D.C. In addition to seeing the White House and Capital Hill, they visited the famous Hillwood Mansion where they marveled over the art collection and gardens of the late food heiress Marjorie Merriweather Post. Her vast art collection included several of Fabergé Easter eggs and the crown of the Empress Alexandra, last czarina of the Romanov Dynasty.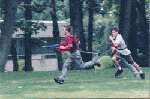 The sports and games, a part of the daily activity of the program, reached their climax on Saturday, August 18, with the "Medieval Games." A knight dressed in chain-mail together with his page, both sitting atop white Arabian stallions presided over the event. The participants proved their courage and knightly qualities through games of French football, "steal the Bacon," dodge ball, shield ball, tug-of-war, and chariot races on a field richly decorated with standards and flags.
After the games, the aspirant "knights" satiated their appetites at a medieval banquet, feasting on four different types of meat in a dining hall, richly decorated with pennants from Siena.
On Sunday morning, the boys attended the Holy Sacrifice of the Mass at the historic St. Alphonsus Church in Baltimore, Md., where the great St. John Neumann was consecrated a bishop. After mass, parents joined their sons and attended a luncheon where the activities of the program were illustrated in an audio-visual presentation.
As the boys piled into their cars and said their last goodbyes, mixed with their joy at seeing their parents and returning home, was a strong note of anticipation for future programs and put into practice some of the many things they had learned.